Beyonce Breaks The Internet with 7/11 Video
Beyonce broke the Internet with 7/11 video last night racking up close to 3.5 million views in a matter of hours.
It seems like Queen Bey was NOT going to sit back after Kim Kardashian bared all for Paper Magazing, so she used her talents and came up with this video for her new single "7/11"
Well, it looks like Beyonce had a lot of fun making this video in one of her flats in Houston, but the song is booty. No pun intended.
[rpi]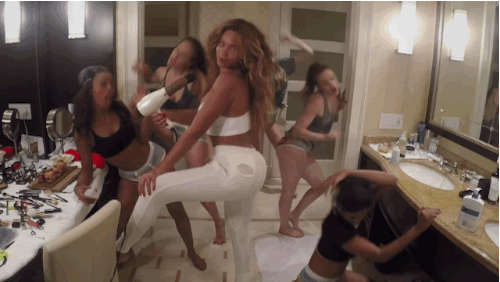 It would probably sound awesome in the club mixed with other tracks, but the song itself is weak, but  that didn't stop her from releasing this video. We also notice one verse that seems like an attack on Kim Kardashian.
Bey says:
"Trick about to go off/Mad cause I'm so fresh/Fresher than you/I'm fresher than you/Fresher than you…"
Watch:
Here are the lyrics for Beyonce's "7/11" video:
[Pre-Hook]
Shoulders sideways, smack it, smack it in the air
Legs movin' side to side, smack it in the air
Legs movin' side to side, smack you in the air
Shoulders sideways, smack it, smack it in the air
Smack it, smack it in the air
Legs movin' side to side, smack it, smack it in the air
Smack it, smack it in the air
[Hook]
Wave your hands side to side, put it in the air
Wave your hands side to side, put it in the air
Clap, clap, clap like you don't care
Smack that, clap, clap, clap, like you don't care
(I know you care)
[Verse]
Clap, clap, clap, clap, clap it
Foot up, my foot up
Hold up now my foot up
I'm spinnin' my foot up
Foot up yeah my foot up
I'm spinnin' my foot up
Put my foot down yeah my hands up
My hands up, my hands up
(Flexin')
Flexin' while my hands up
My hands up, my hands up
I stand up with my hands up
Then I put up, my hands up
I put up, my hands up
I put up, my hands up
Then I'm spinnin' all my hands up
(Spinnin')
Spinnin' while my hands up
(Spinnin')
Spinnin' while my hands up
(Spinnin')
Spinnin' while my hands up
Then I'm tippin' all my hands up
Spinnin', I'm spinnin', I'm spinnin' while my hands up
I'm Spinnin', I'm spinnin', I'm spinnin' while my hands up
(Drank)
[Bridge]
Hold that cup like alcohol, oh let go like alcohol
Hold that cup like alcohol
Don't you drop that alcohol
Never drop that alcohol, never drop that alcohol
I know you thinkin' bout alcohol
I know I'm thinkin' bout that alcohol
[Continued Verse]
Man it feel like rollin' dice, man it feel like rollin' dice
Seven eleven, seven eleven, seven twice, man seven twice
Man it feel like rollin' dice, man this feel like rollin' dice
Man it feel like rollin' dice
Seven twice, seven twice
Girl I'm tryna kick it with you
Girl I'm tryna kick it with you
Man I'm tryna kick it with you
My feet up, I kick it with you
Man I swear I kick it with you
Man I swear I kick it with you
Girl I wanna kick it with you
Man i know I kick it with you
Yeah I spin' around and I kick it with you
[Pre-Hook] + [Hook]
[Outro]
Wave your hands side to side
Wave your hands side to side
Wave your hands side to side
Wave your hands side to side
Ooh wee be-be freaky deaky
Think me see she pink bikini
Rock that groovy dye dashiki
Nefertiti, edges kinky
Sweatin' out my blow out
Sweatin' out my presses
Trick about to go off
Mad cause I'm so fresh
Fresher than you
I'm fresher than you
Fresher than you