Adrien Broner Copies Mayweather With Hip Hop Entourage bringing out Young Thug, Rich Homie Quan, and Birdman to walk him to the ring.
While walking out at his fight with Emanuel Taylor, Adrien Broner enlisted his hip hop enotourage to accompany him to the ring, with Thug and Quan performing "Lifestyle." Broner relished in the moment, pulling out wild dance moves and flashing a huge smile the whole time. He's hoping Rich Gang's presence will be good luck for his fight against Taylor. Broner's last fight he was accompanied by Rick Ross, who performed "Box Chevy" along with Ross' face patched on his shorts.
In related news Young Thug Calls Birdman his Lover?
First Young Thug called Rich Homie Quan his "hubbie" on Instagram and now the  Atlanta rap weirdo Young Thug is now referring to Cash Money CEO Birdman as his "lover" in a video on social media. Thugger wrote on Instagram on Tuesday (Sep 2):
"Me and my lover dripping!!! Like always!!!@birdman5star f–k with me fool…. VIDEO BY:@ogbentley_ follow him"
In the 15-second clip, he and his mentor Birdman embrace for an affectionate "pound hug." Watch:
Wouldn't this be an interesting love triangle, but this is not the first time Birdman has been connected to relations with  a man – remember the infamous kiss between Lilo Wayne and Birdman that Turk admitted was a normal thing for the hip hop duo.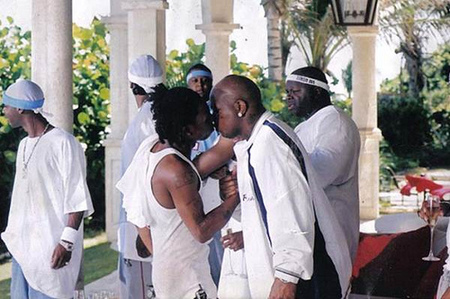 Related articles