Go, Mama! Wendy Williams is dating again, and word is, her new man is a young stud who is a much younger man.
Read on to see the photo reveal from Wendy Williams who teased her new man on social media holding his hand in a very loving way…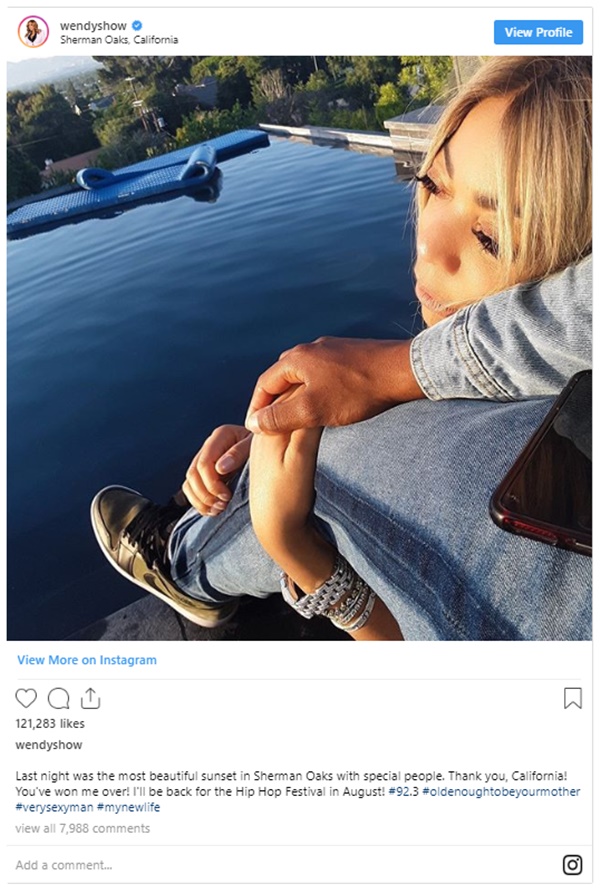 CelebNMusic247.com has the latest tea on Wendy Williams who has been out in Los Angeles celebrating LA Gay Pride with Black Chyna and friends, though she snapped a sexy photo with her hot security guard.
Anyways, Wendy Williams is doing the damn thing and it appears she might have gotten her back blown out over the weekend.
Wendy announced this morning, that she spent last night with a much younger man.
She was giving us some serious bedroom hair and it looks as if all the stress was lifted from a night on "knockin boots" – Yeah we gave you a little H-Town love Wendy.
Take a look at her post and you tell us that's not a morning after look of a really good night of sexing!
Wendy posted pics of the two holding hands and wrote:
Last night was the most beautiful sunset in Sherman Oaks with special people. Thank you, California! You've won me over! I'll be back for the Hip Hop Festival in August! #92.3 #oldenoughtobeyourmother #verysexyman #mynewlife
Look at the hashtag – "old enough to be your mother." Clearly, she's talking about her new bae.
We bet Kevin Hunter never laid pipe that good. Wendy looks worn out.
TMZ reports, turns out, Wendy's mystery man is the same guy who was riding with her Sunday night when a photog caught up with them at Roscoe's Chicken & Waffles. He's in his late 20s and doesn't have any kids.