It appears Steve Harvey F'd himself when he took an invite to meet with President Trump, but it all stems back to his comment about Asian men. Read on…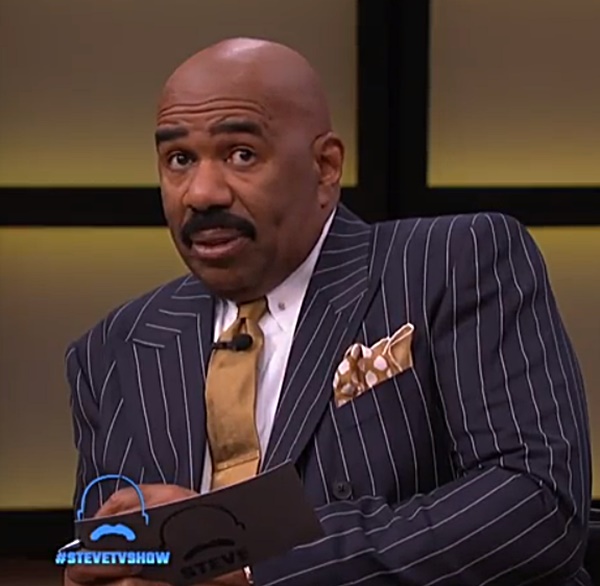 CelebNMusic247.com would like to clear up some questions on why Steve Harvey is losing his other TV series gig, Family Feud.
Why Steve Harvey Talk Show was cancelled:
See, back in 2016, Steve Harvey met with President 45 amid controversy for his comments on Asian men. Since then his ratings have continued to drop which made the decision easy for the network to say CANCELLED. As for the alleged "Racoon Rant," it was NOT Steve who wrote it according to FactCheck.org.
Steve recently lost two other hosting gigs. His daytime talk show, Steve, was canceled and he was replaced as host of Little Big Shots. Rumors are swirling that Family Feud is next.
Is Harvey Too Expensive for Family Feud Gig?
According to a person close to production, Steve Harvey may be getting pushed out of his hosting gig at Family Feud as early as this year
The production staffer said:
Steve's contract with Family Feud is up, and he's very expensive.
Not only that, but it is rumored that production is exploring cutting Steve out – and his hefty salary – and replace him with someone cheaper.
See, Steve is up for his third 5-year contract in 2020. And while no final decision has been made – Steve's future with Family Feud is unclear.
"If Steve wants to stay, he'll probably have to take a big pay cut," The insider claims.
Word is, Good Morning America show host Michael Strahan is the one the network is eyeing to replace Harvey.
Steve Loses kids' talent show, Little Big Shots to Melissa McCarthy:
On Sunday, PEOPLE confirmed that Harvey won't be hosting the kids' talent show Little Big Shots when the series returns to NBC.
Instead, Melissa McCarthy will be taking on the position. NBC's co-chairman of entertainment Paul Telegdy said in a statement:
Melissa's just an incredible performer and an incredible comedian…[she] will bring a completely fresh perspective to it.