Sammie Ware SLAMS Lea Michele Inserting Herself in Black Lives Matter!
Glee's Lea Michele had the best of intentions but it appears that her feelings in support of Black Lives Matter were taken out of context. Read on…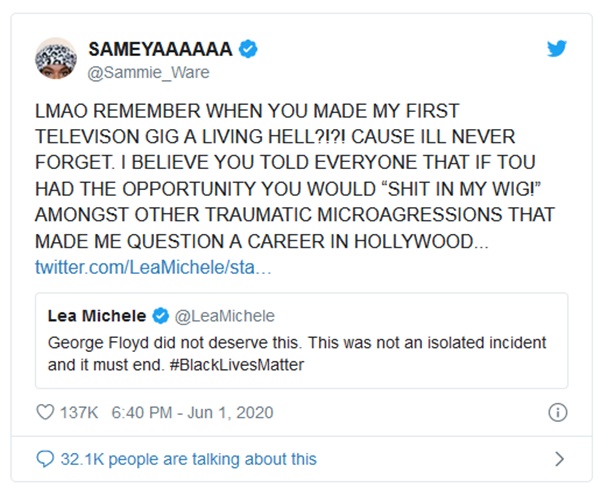 CelebNMusic247.com reports that three black members from the hit series "Glee" took serious issue with Lea Michele chiming in on the ongoing Black Lives Matter movement in the wake of George Floyd's murder.
We understand that Lea Michele had good intentions, but to be honest sometimes when it become a Black Lives Matter issue the best thing to do is be quiet. Epecially when someone like Sammie Ware, who starred on Glee revealed that Lea "MADE MY FIRST TELEVISION GIG A LIVING HELL?!?!" She goes on to say "ILL NEVER FORGET."
Michele tweeted on Friday, followed by the #BlackLivesMatter hashtag:
George Floyd did not deserve this. This was not an isolated incident and it must end.
Without addressing the ongoing civil unrest over Floyd's killing, one of Michele's former co-stars instead appeared to take issue with Michele injecting herself into a conversation. She felt some type of way considering how she claims Michele treated her during their time together on the show.
Sammie Ware wrote on Monday night in response to Michele's tweet
Remember when you made my first television gig a living hell? I believe you told everyone that if you had the opportunity you would 'shit in my wig!' amongst [sic] traumatic microaggressions that made me question a career in Hollywood.
Sammie Ware joined the cast of "Glee" during its final season in 2015 as a member of glee club New Directions. Another latecomer to the "Glee" family was among the first to back her up.
Alex Newell ("Zoey's Extraordinary Playlist") joined the show in the fourth season before becoming a series regular in Season 5. Not only did he echo Yvette Nicole Brown's support, but he quickly shared a meme of RuPaul looking on carefully through binoculars.