Post Malone apparently has tired of his face so he decided to ink it up with the words "Always Tired" under his eyes.
Read on to see the new facial ink under Post Malone eyes…
This week, Post Malone got his face inked by the amazing Chad Rowe tattoos who took to Instagram to boast about the Beerbongs & Bentleys rapper stepping into his shop.
Malone added "Always Tired" on his face to his Playboy bunny, Elvis Presley, John Lennon, a snake wrapped around an M16 rifle and former US President, John F Kennedy and the stitches on his forehead.
Meanwhile, Chad Rowe explains how Post Malone getting a tattoo by him was "one of most surreal moments of my entire life."
Chad goes on to say:
I had the absolute honor to tattoo @postmalone and his crew and even had the man himself TATTOO MY HAND. I really don't even know how to explain the entire situation. So if you want to hear the story message me to book your next tattoo or come into the shop.
Rowe concluded by saying thank you to "everyone in the Post tour."
I love you guys. And thank you to everyone who follows me on my journey. You make this possible. This is life-changing.
You might ask why did Post get the ink under his eyes? Malone told GQ:
Justin Bieber was the guy that inspired me to get tattoos. He was in the studio and I was like, 'hey man, does that hurt?' because that's when I just had first met him. And he was like, 'no'.
Social media are NOT especially the biggest fans on Malone's new ink.
One follower weighed in saying:
Okay honestly who is in charge on Post Malone. who let him tattoo "always tired" on his face like that? what the HELL?
Another said:
Every mother of young kids is rolling their eyes so hard right now. Young and rich, you have no idea what tired is.
In additional news, Post is already working on new music and is guaranteeing a new album is already in the works following his 18 track album Beerbongs & Bentleys.
Post took to Twitter this morning revealing the news:
I am writing for the next album. thank u to everyone who is listening. let's kick some dick. I love u. good morning.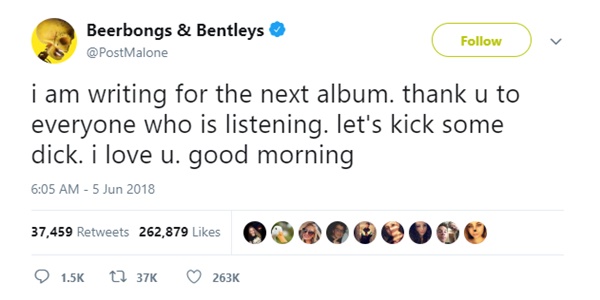 Take a look at his new ink: