Juice WRLD's Label Releases Statement Regarding Rapper's Untimely Death!
The hip hop world was shocked when news broke this weekend that Juice WRLD died five days after his birthday. He suffered a seizure walking through Midway airport and was rushed to a nearby hospital where he was pronounced dead. Read on to see what Juice WRLD's Label Statement says…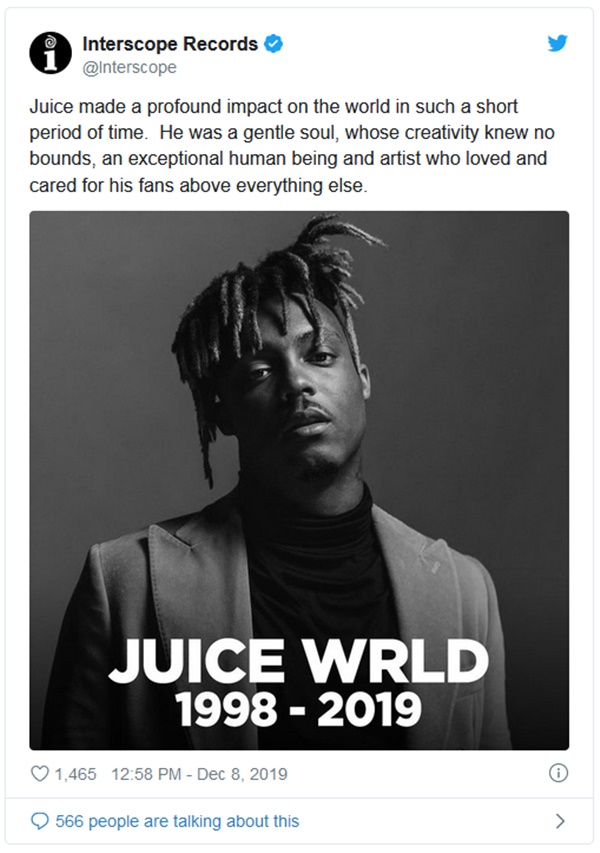 CelebNMusic247.com reports that Juice WRLD suffered an acute medical ailment while inside a Chicago airport. The symptoms of his "acute attack" are consistent with a drug overdose.
Now rapper Juice WRLD's label has issued a statement following the rapper's untimely death over the weekend.
The statement from Interscope Geffen A&M Records reads:
Juice made a profound impact on the world in such a short period of time.

He was a gentle soul, whose creativity knew no bounds, an exceptional human being and artist who loved and cared for his fans above everything else. To lose someone so kind and so close to our hearts is devastating. Our thoughts are with Juice's family and friends, everyone at his label Grade A, and his millions of fans around the world.
Juice WRLD was signed to Interscope Records in March 2018 after becoming popular on SoundCloud with tracks "Lucid Dreams" and "All Girls Are the Same."
He was Interscope's biggest moneymaker for the label, and now since his death his record sales are blowing up.
As for the cause of his death, no cause of death has been officially determined, Cook County Medical Examiner's Office spokeswoman Natalia Derevyanny said. His body will still need an autopsy.