JAY Z performs "Some How Some Way" at Webster Hall, a Nipsey Hussle freestyle talking about Nipsey Hussle's movement to reinvest in black communities, but he threw off everyone with the word "gentrify."
We had a discussion with our core group and they pointed out that Jay Z was just being a wordsmith only using the word "gentrify" to express to the black community to reinvest in black communities. Read on to watch because Hov's freestyle to Nipsey has received some major backlash…
CelebNMusic247.com reports that Jay Z put his wordsmith together for a Nipsey Hussle freestyle but failed when he used the word "gentrify" black neighborhoods.
See, "gentrify" means to renovate and improve (a house or district) so that it conforms to middle-class taste. It also means that black communities are forced out by big businesses who come in and take over an area.
Jay-Z has sparked controversy with his Nipsey Hussle freestyle at Webster Hall over the weekend.
There are many areas in the US that have been "gentrified," take for instance Howard University.
According to Wbur.com unwelcome dog-walkers fuel gentrification debate with Howard University students who find that behavior disrespectful of the university's storied history in D.C.

Howard University is at the center of a debate over gentrification that has resonated with people far beyond its campus in Washington, D.C.

Howard is a historically black university in an area of Washington that, like the city as a whole, has been getting wealthier and whiter in recent years. That has meant more nonstudents using The Yard at Howard like a neighborhood park: picnicking, jogging and walking their dogs there.
Gentrification can be good, but that is NOT what Nipsey Hussle's movement is about. Nipsey wanted the black community to start reinvesting in black neighborhoods to make them stronger and strive. His movement is noble, but it takes everyone to be part of it, even the gangs need to stop the gun violence which ruins black neighborhoods.
Did Jay Z misconstrue Nipsey Hussle's movement?
In that respect, gentrification may be the only way, but that also means that it would force out the low-income blacks who grew up in those communities. Is that right? Yes, and no. As for Jay Z, we will give him a pass, but he needs to work out the rust in his rap skills when using terminology to define a movement correctly.
Jay-Z's lyrics in question are:
Gentrify your own hood before these people do it. Claim eminent domain and have your people move in. That's a small glimpse into what Nipsey was doing. For anybody still confused as to what he was doing.
Here is how people have reacted to Jay Z Nipsey Hussle Freestyle: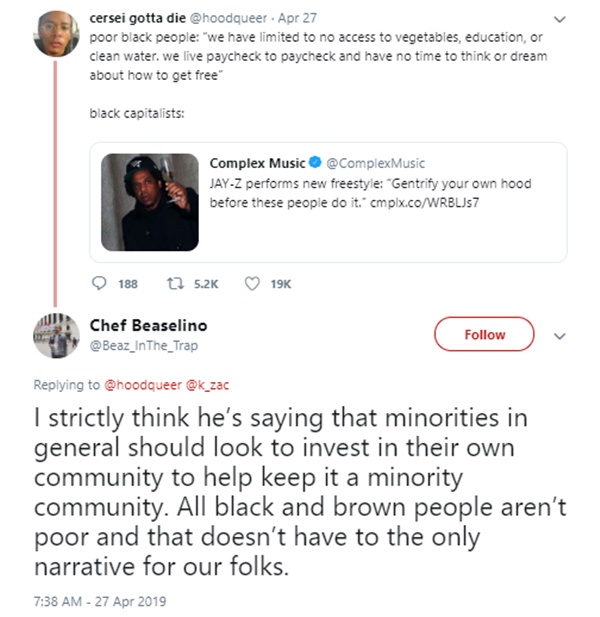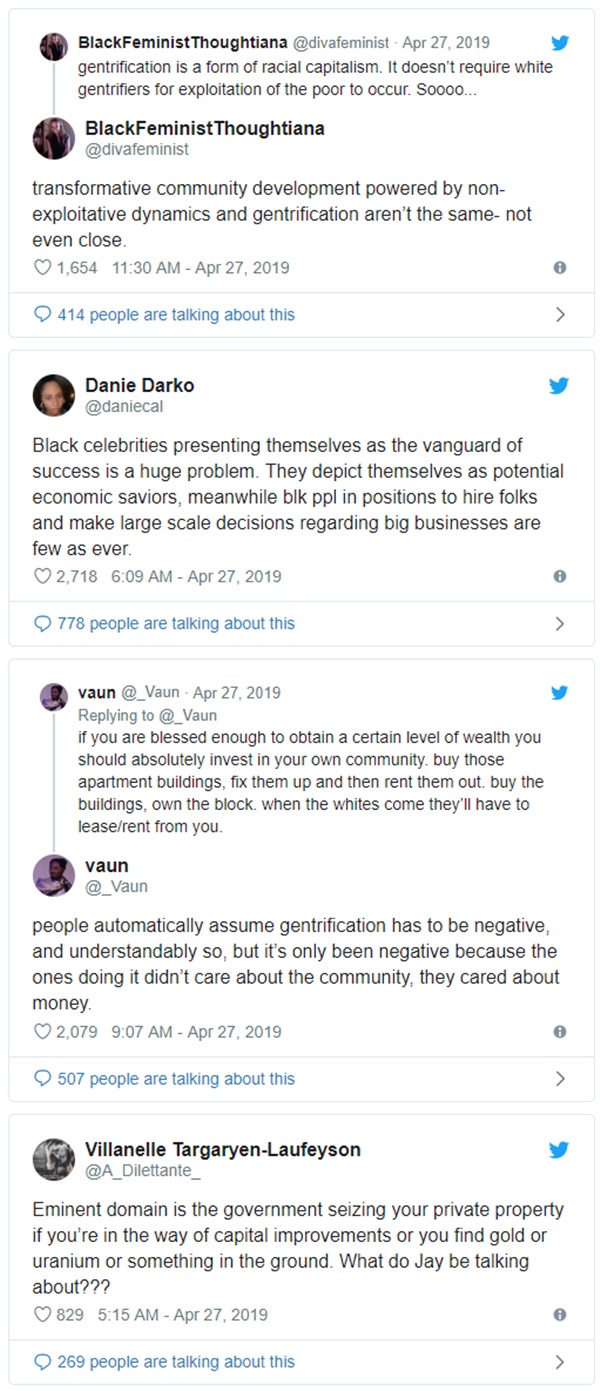 Despite the naysayers, one of our staffers made the statement, "if you're about black culture and hip hop then you would understand what Hov is saying. It's wordplay, so you don't take gentrify literally."
Do you agree?