When it comes to 50 Cent, he is definitely not feeling Kanye West's style so the Power and BMF creator decided to call him out over his recent fashion choices.
Apparently, Kanye West is still feeling the purple vibes while being spotted wearing some new minimalist footwear that looks like it came straight from outer space. Read on to see what 50 Cent had to say about Kanye West fashion sense…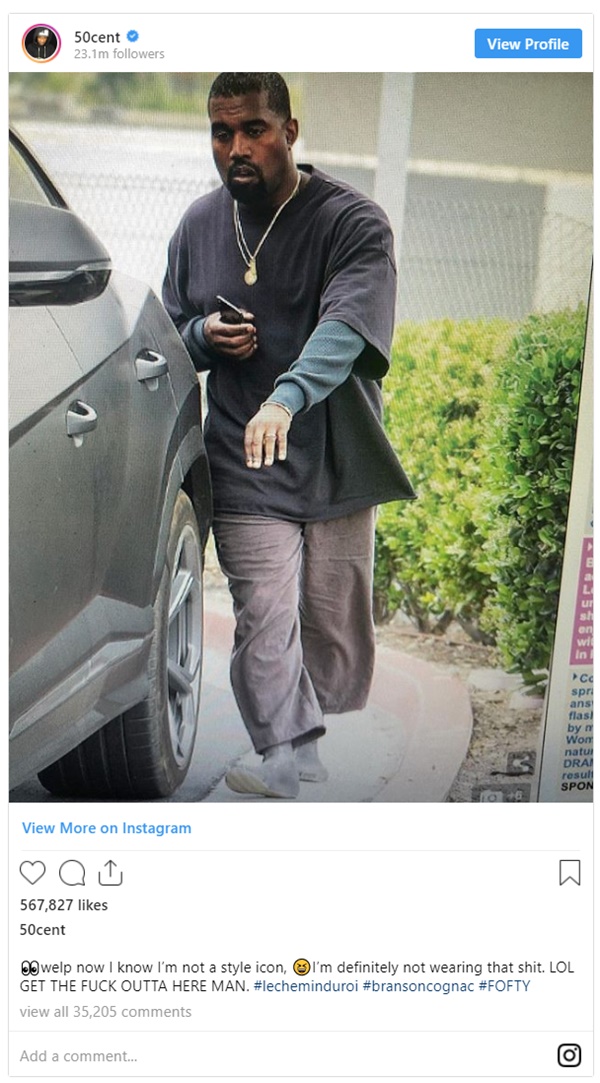 CelebNMusic247.com has to agree with 50 Cent on this one because Kanye West fashions sense looks like it came straight out of a Divergent movie.
Kanye West's fashion sense seems to be more of a post-apocalyptic style, meaning, bagging, frumpy and just sloppy casual.
It's NOT a good look, because the photos of Kanye in those clothes make him look shorter than he really is, and 50 Cent points out the look is all wrong.
These are the same over-priced purple vibes from his Sunday Service at Coachella. West was spotted showing off a Yeezy prototype of shoes without shoestrings which offers very little in the sole department.
Basically, if you are looking for support in a shoe, these are NOT it.
While Kanye decided to share his new look and shoes 50 Cent took to Instagram to weigh in on the dreadful look.
50 Cent kicked off a series of comments starting off with this one:
?What in the "spare some change" type shit is this
He continued to say:
?No this is not a rich n—a Vibe, ???? I'm out ok I'm gone.
He closed with this about Kanye:
Welp now I know I'm not a style icon, I'm definitely not wearing that shit. LOL GET THE F-CK OUTTA HERE MAN!
Thoughts?