Last year, top NYC DJ Funkmaster Flex exposed Cardi B for having a ghostwriter. At the time, Cardi never denied having help writing her rhymes.
Well, that was then, this is now because Cardi B was just won 4 ASCAP awards for four songs that she didn't write. Read on to see why Funkmaster Flex BLASTS Cardi B SCAMMING ASCAP Awards
CelebNMusic247.com reports that Cardi B continues to win because she is popular, but being popular doesn't mean she is talented.
Yesterday, Cardi made a public service announcement to her fans and now, DJ Funkmaster Flex is CALLING OUT Cardi B for scamming ASCAP awards!
The "Wish Wish" rapper accolades continue since she won a Grammy Award, seven Billboard Music Awards—the most of any female rapper, nine BET Hip Hop Awards—the most of any female rapper, three American Music Awards, three MTV Video Music Awards, and two Guinness World Records.
Now, Cardi B just won 4 #ASCAPPop Awards for her songs #Finesse, #GirlsLikeYou, #ILikeIt & #NoLimit.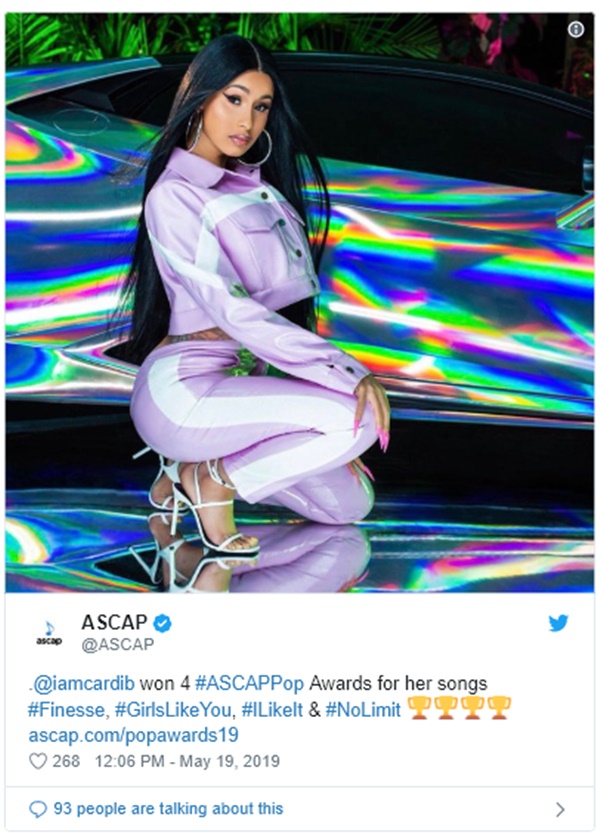 The problem is now some folks on social media are calling out Cardi, claiming that she scammed the awards away from the true writers of her music.
The crazy thing is that Cardi B has spoken openly about using ghostwriter Pardison, who has written most of her music. Cardi B continues to collect awards, whether earned or unearned.
Cardi B has revealed the truth behind claims that she used ghostwriters for a number of songs on her new album 'Invasion Of Privacy'.
She says that Pardison is not her ghostwriter, he is a co-writer on her music.
The mommy of Kulture explained to Charlamagne in 2018:
Pardison is not a ghostwriter, he's a co-writer. I credit him in all the songs that he been in … I'm putting my people on, you know what I'm saying? Atlantic noticed his working skills, they notice his music, they signed him too.
What do you think about Cardi winning a bunch of awards for her music that she doesn't write?
DJ Khaled just dropped his new song "Wish Wish" featuring Cardi B: