The drama between Taylor Swift and Scooter Braun has branched out into a whole other conversation regarding a few other individuals, namely Ed Sheeran.
Following Taylor Swift's recent reveal that Scooter Braun pulled a snake move by purchasing all her music catalog behind her back, fans are now going after Ed Sheeran for not defending Tay Tay. Read on to see how Ed Sheeran Breaks Silence…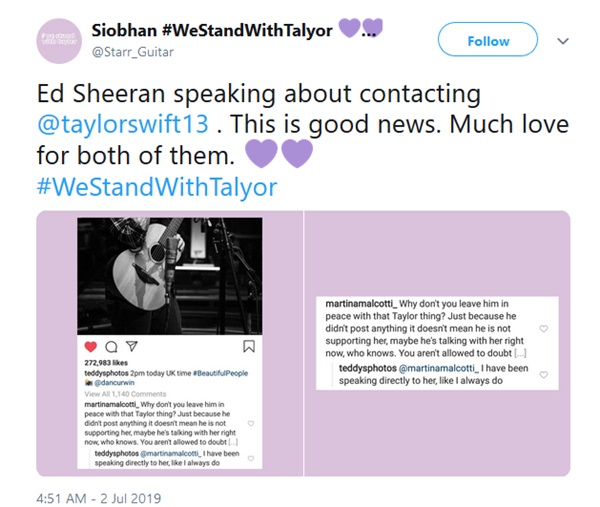 CelebNMusic247.com reports that Ed Sheeran, 28, broke his silence on the conflict after Instagram commenters called him out for not outwardly siding with Swift, 29.
Over the weekend, Taylor Swift let the world know that SNAKE Scooter Braun bought her master recordings as part of his purchase of her former record label.
The four-time Grammy winner wrote in response to fans who had the audacity to attack him for saying nothing publically or on social media.
One Swifty wrote:
Why aren't you publicly showing your support of Taylor?
Another wrote:
So you, a songwriter and one of the most successful and influential musicians in the world, are just gonna stay silent on the fact that taylor swift, one of your friends or so we think, got robbed of 11 years of her own work.
Then, there were nasty remarks like this one that triggered Sheeran to say something:
Waiting to hear from Ed Sheeran, where is his BFF ass when Taylor needs him to step the fuck up and support her, uh?
Meanwhile, one of Sheeran fan wrote in defense of the ginger singer.
He said:
Some of you are being so childish because he didn't support publicly Taylor ? What tells you he doesn't support her privately, oh wait something tells you he does, he just commented about it. Just grow up and stop putting people against each other for no actual reason. Ed is the very supportive friend in the story so why would you spread so much hate towards him? For no reason? Yes, that's what some keep doing. Just leave him alone and try to be supportive to Taylor instead of dragging the supportive ones down.
Ed has finally responded to the matter with a simple comment on Instagram to DEAD the naysayers [via US Weekly]:
I have been speaking directly to her like I always do.
Let's see if he makes an official statement on the matter.