DaBaby: Internal Investigation Launched Over Arrest!
We are hearing that rapper DaBaby is dealing with some legal problems after police in Charlotte, North Carolina decided to look into the actions of two different crime units who arrested DaBaby. Read on as DaBaby lands Internal Investigation after his arrest…
CelebNMusic247.com reports that DaBaby made a triumphant return to his hometown on December 23rd during a stop at the Bojangles arena.
Though there was one problem, DaBaby ended up getting arrested after the show during a confrontation involving officers from the North Tryon Crime Reduction Unit and the Providence Division Crime Reduction Unit.
Right before Christmas, Jonathan Lyndale Kirk, better known as DaBaby got stopped and harassed by Charlotte police officers in his hometown before performing at World Night Club. DaBaby is heard telling CMPD to suck his d**k as he was handcuffed.
Watch as DaBaby's arrest on December 23rd after his show at the Bojangles Arena:
Over the weekend AHH reports:
The cops claimed they said they saw marijuana in plain view inside of his white Dodge Charger when he went through security checkpoints to enter the venue before his performance.

The detectives claimed they allowed the rapper to perform and tried questioning him when he hopped off the stage.

Police claim DaBaby became confrontational and that's when they claim they legally searched his vehicle.

DaBaby maintain the cops were unfairly targeting him, and he posted video footage of two officers peering into his car while he was performing.

According to a spokesperson for the Charlotte-Mecklenburg Police department, an investigation has officially been opened into the incident.
A press release put out by the CMPD reads:
The CMPD has launched an Internal Affairs investigation to determine if Officers followed department policies and directives during the incident.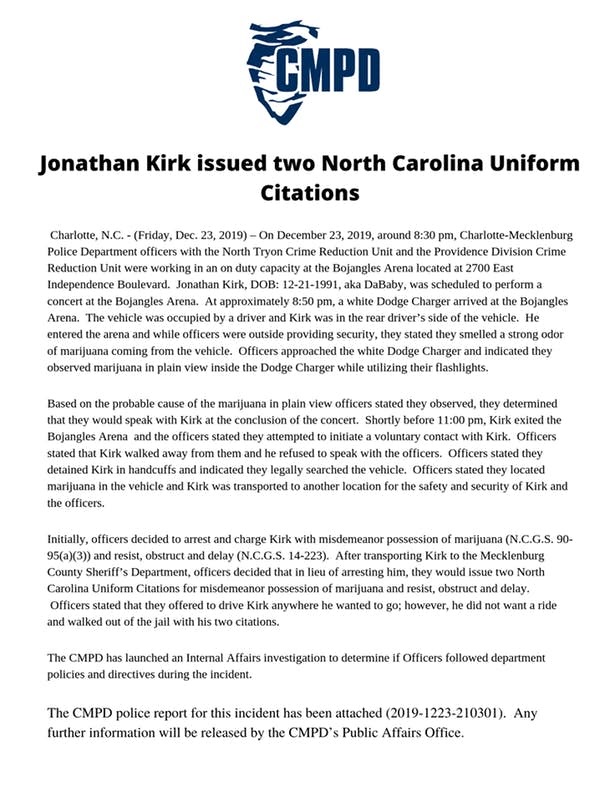 DaBaby blasted the cops for targeting him, after his worldwide success over the past year with two standout albums, Baby on Baby and Kirk.

The 28-year-old rapper also BLASTED cops with a Charlotte-Mecklenburg Police department killed a civilian a few hours after his arrest for possession of marijuana.
DaBaby said:
Someone died last night while the police department wasting resources and officers to harass me in an attempt to make a bad example out of me. When in reality, i'm the most positive example the city of Charlotte got. Especially for anybody in the streets of Charlotte and the KIDS.
Despite the charges, DaBaby wishes everyone happy holidays: