French Montana Calls 50 Cent A 'Donkey'
Rapper French Montana and 50 Cent have been Ista feuding over the past couple days after Fiddy was spotted mocking his recent hospital stay and new '$2 million' Bugatti. Read on…
CelebNMusic247.com reports that 50 Cent heavily TROLLED French Montana saying this about the Bugatti that "the shit is a 08." And tells Montana, "boy don't you ever pull up in no shit like this junkie," insinuating that he's a drug addict after he was hospitalized.
French Montana, 35, left the ICU, and recently tried to explain that it was because he partied way too much.
Then he bought himself an expensive new Bugatti and took to Instagram to show it off on Dec. 29, but not everyone was impressed. 50 Cent, for example, ragged on French and made fun of him for both his recent hospital stay and his new ride, which he claims is "old".
50 Cent wrote:
I'm in the hospital so sick of n!ggas, ?that's a 2008 Veyron man, ?you shoulda just got the Uber app on ya phone ????it's 2020 Chiron Man hahaha Put that bullshit back on that truck.
French responded with this:
If you don't take your jean shorts with ashy knees, and that two-tone du-rag back to Connecticut to that hunted house! That u had to drive 2 hours there and back every day from NY? with yo Christmas in Alaska cold-ass ?hating on a young nigga that's a $2 million Dolla Bugatti with no miles collector's item! Boi u a dinosaur ? lol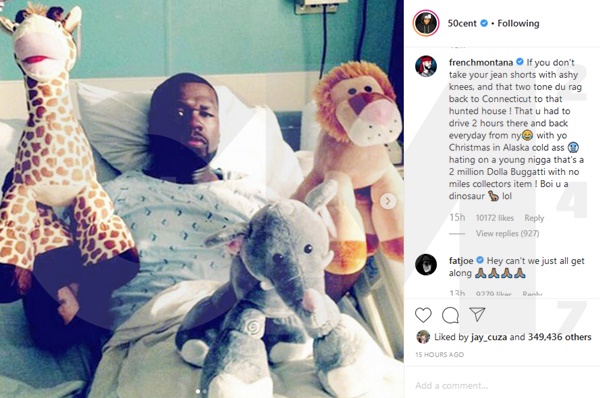 And that is when the Fiddy and Montana started feuding over his Bugatti on Insta.
Take a look at the back and forth posts:
French kicked things off with this Insta-video:
Montana continued with this:
He didn't stop, oh no, he went as far as calling 50 Cent 59. It was a reference to Fiddy posting on Insta that Tekashi 6ix9ine was his son. Well, that was until he snitched on everyone and then Fiddy disowned his @ss.
French posted this:
50 Cent responded with these posts:
He continued to TROLL French with this:
So, French Montana FIRED BACK with these two posts directed at the 44-year-old rapper/actor/producer 50 Cent.