It appears that Chris Brown had a new meltdown over his ex-girlfriend, Karrueche Tran, and her new and nonviolent partner, Victor Cruz, steamy pool PDA.
Read on to get the tea spilling on Chris Brown meltdown…
After Chris Brown treated his ex-girlfriend, Karrueche Tran like a round two match with Rihanna, she bounced.
Now, Karrueche Tran is on TNT's Claws and she has upgraded her man from a boy. She's dating the sexy former NFL baller Victor Cruz.
Victor is not only a man, he treats her right and the two look very happy together. Over the past few days Karrueche and Victor have been in a couple PDAs and fans are eating it up.
As for her ex-Chris Brown, he's having a meltdown, because the best revenge is success and showing your ex how much better you can do without them.
The Claws actress and model is currently on vacation with Victor in Miami, Florida.
Over the past couple days the celeb couple have been caught having a very hot and steamy moment in the cool water. Of course, Chris could not help but react to the photos of Tran and Victor at the Setai Beach Hotel pool.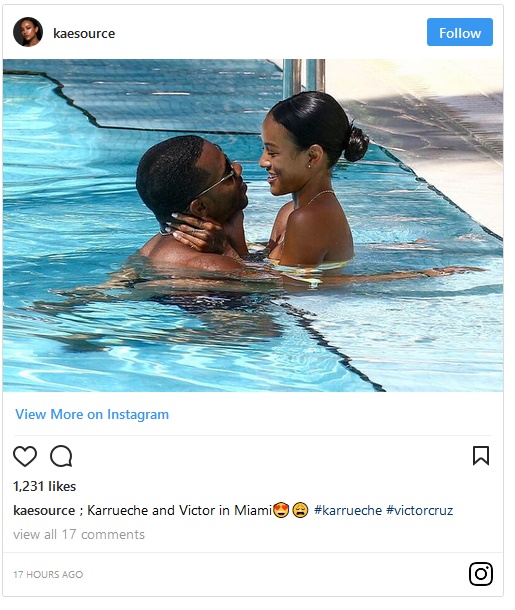 Rihanna's former boyfriend jumped under the PDA-packed pool session and wrote: "GOAL."  He later returned, and he posted emojis of a sad man walking away from a couple in love.
Breezy was instantly mocked by followed since he was trolling Karrueche's Instagram, so he deleted his Instagram account once again. What a B—h!
It seems Chris is still jealous of any man who is with Karrueche or Rihanna, but maybe if he acted like a man and no a boy, he could keep a woman.
The disrespectful R&B singer music is on point, but Chris, personally is NOT. Karrueche and Chris ended in court, and she was awarded a restraining order. We guess this is as close as he can get to her. Aww, sad face…NOT!
Congrats Karrueche, and gueridons Chris…leave her alone!
It is also believed that Karrueche dumped Chris because he fathered a daughter with another woman while they were together.