KAABOO 2018 is becoming that music festival that is legendary when it comes to the talent hitting the stage each year!
This year KAABOO 2018 continues in bringing the A-List talent to the stage like Robert Plant & The Sensational Space Shifters , The Foo Fighters, Imagine Dragons, and Katy Perry.
Last year, Tom Petty, Muse and P!nk dominated the festival and this year it's going to be another EPIC year in Del Mar, California.
Continue on to see our 80 reasons why you need to go to KAABOO 2018…
There are multiple ways to attend the West Coast Music Festival, KAABOO 2018 in Del Mar California on September 14 – 16th.
To check out our previous years of coverage and photo galleries at KAABOO click here…
And, if you need to know how to survive KAABOO, click here…
For information on tickets, parking and hotel accommodations head on over to the KAABOO website for FULL details…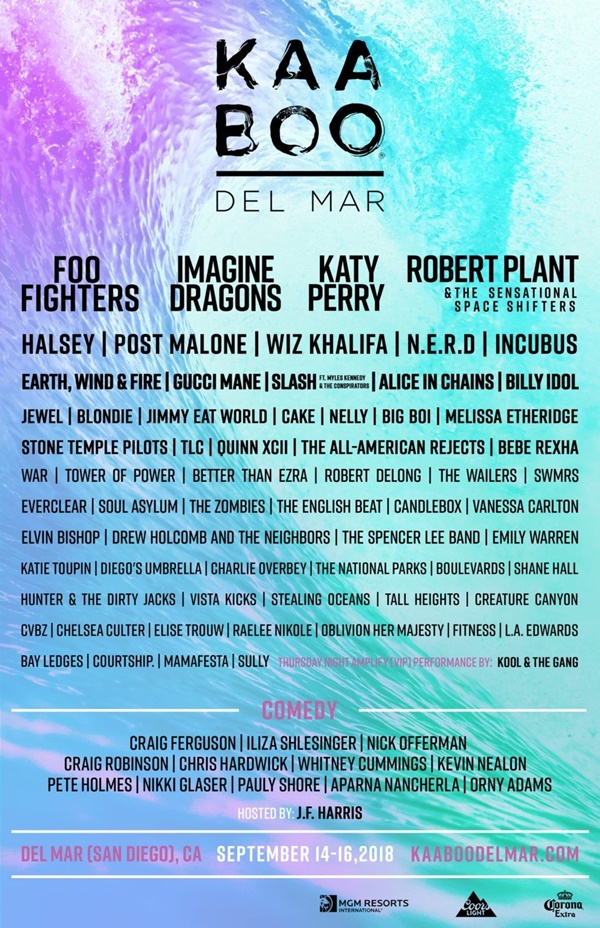 Here are our 80 Reasons Why You Need to go to KAABOO 2018: (Daily Lineup HERE)
Foo Fighters
Imagine Dragons
Katy Perry
Robert Plant and the Sensational Space Shifters
Halsey
Post Malone
Wiz Khalifa
N.E.R.D
Incubus
Earth, Wind & Fire
Gucci Mane
Slash ft. Myles Kennedy and The Conspirators
Alice in Chains
Billy Idol
Jewel
Blondie
Jimmy Eat World
CAKE
Nelly
Big Boi
Melissa Etheridge
Stone Temple Pilots
TLC
Quinn XCII
The All-American Rejects
Bebe Rexha
War
Tower of Power
Better Than Ezra
Robert DeLong
The Wailers
SWMRS
Everclear
Soul Asylum
The Zombies
The English Beat
Candlebox
Vanessa Carlton
Elvin Bishop
Drew Holcomb and The Neighbors
The Spencer Lee Band
Emily Warren
Katie Toupin
Diego's Umbrella
Charlie Overbey
The National Parks
Boulevards
Shane Hall
Hunter & The Dirty Jacks
Vista Kicks
Stealing Oceans
Tall Heights
Creature Canyon
CVBZ
Chelsea Cutler
Elise Trouw
Raelee Nikole
Oblivion Her Majesty
FITNESS
L.A. Edwards
Bay Ledges
Courtship.
Mamafesta
Sully & The "Blue-Eyed Soul Band"
Kool & The Gang (Thursday Night ONLY)
KAABOO Comedy Experience:
Craig Ferguson
Iliza Shlesinger
Nick Offerman
Craig Robinson
Chris Hardwick
Whitney Cummings
Kevin Nealon
Pete Holmes
Nikki Glaser
Pauly Shore
Aparna Nancherla
Orny Adams
J.F. Harris
The other two aspect that you have to check out The Art, there are so many cool exhibits at the festival.
For those elete few, Mercedes has the ultimate experience only for MERCEDES owners. It is one of the best features KAABOO overs. Mercedes has extrodinairy viewpoints at both main stages, bars, and terrece lounges.  We highly recommend checking out Mercedes at KAABOO 2018. It will just take you music festival experience over the top.
And lastly, the food, the options for delicious cuisine are endless, as well as, wineries and beer boths. KAABOO overs the full experience in music festival luxury.
If you go VIP, it is another world with EXCLUSIVE zones, lounges, poolside viewing and more. Get Ticket Pricing here…