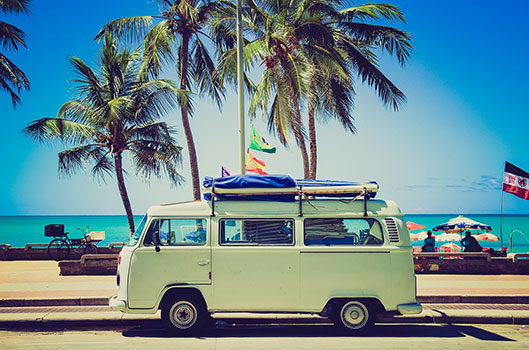 What You NEED To KNOW About KAABOO Del Mar!!!
If you are heading out the KAABOO Del Mar Music Festival we felt that there are some important things you NEED to know about the KAABOO Del Mar Music Festival.
Get ready because KAABOO is going down in Del Mar, California on September 18, 19 and 20th, 2015. What's better than music under the sun by the beach. It everything you want from a So Cal Music Festival.
First and foremost KAABOO IS EVERYTHING A TYPICAL MUSIC FESTIVAL IS NOT.
KAABOO was created by music lovers for music lovers. An adult escape, uniquely curated to appeal to all five of your senses, with world-class music, dancing, incredible cuisine, craft libations, inspiring contemporary art, and personal indulgences.

YOU SHOULDN'T HAVE TO SACRIFICE COMFORT FOR GREAT LIVE MUSIC, AND AT KAABOO, YOU WON'T.

Forget what you know about music festivals, we're shifting the paradigm and starting something new. KAABOO is the perfect weekend escape, described in a word that comes from whatever the hell we feel like yelling when we're high on life and having fun. A curated three-day sound voyage that combines rock-n-roll music and taste-making events in a modern wonderland on the warm shores of the pacific. Where every detail is designed for your enjoyment and clean, comfortable amenities inspire you to break from your busy life, let loose and enjoy the experience. Welcome to KAABOO, the place where all of your senses align.
Stay CONNECTED TO KAABOO Del Mar:
TICKET INFORMATION:
From single day tickets to two and three-day passes the organizers are doing things a little different – This time festival goers can purchase customizable entry packages with single day, two-day (with the ability to pick any two days of the three-day event), and the traditional three-day weekend option.

KAABOO Del Mar ticket prices range from $125 for GA Hang Loose prices to the Hang Ten VIP pass at $2499 per pass.

A FULL list of ticketing choices can be found at the KAABOO website.
THE ULTIMATE IN EFFICIENCY – FAST PASS:
Purchase a Fast Pass to bypass the main gate line to get you in and onto your KAABOO experience even faster. A limited quantity of Fast Passes will be available, so purchase early when you purchase your pass.

Fast Passes will be available when you purchase your KAABOO pass. Or, click here to purchase separately.

(Please note – This pass was previously referred to as the "Zipline" and renamed for clarification. Please note, there is not an actual Zipline attraction into KAABOO. )
TRAVEL & STAY ACCOMMODATION INFORMATION:
KAABOO is an experience that includes priority access to luxury accommodations at nearby hotels. If you prefer another hotel, there are numerous options within proximity to the venue.

MOST ALL Hotels are SOLD OUT, but we have the information you NEED to know to BOOK your stay for the KAABOO Festival HERE…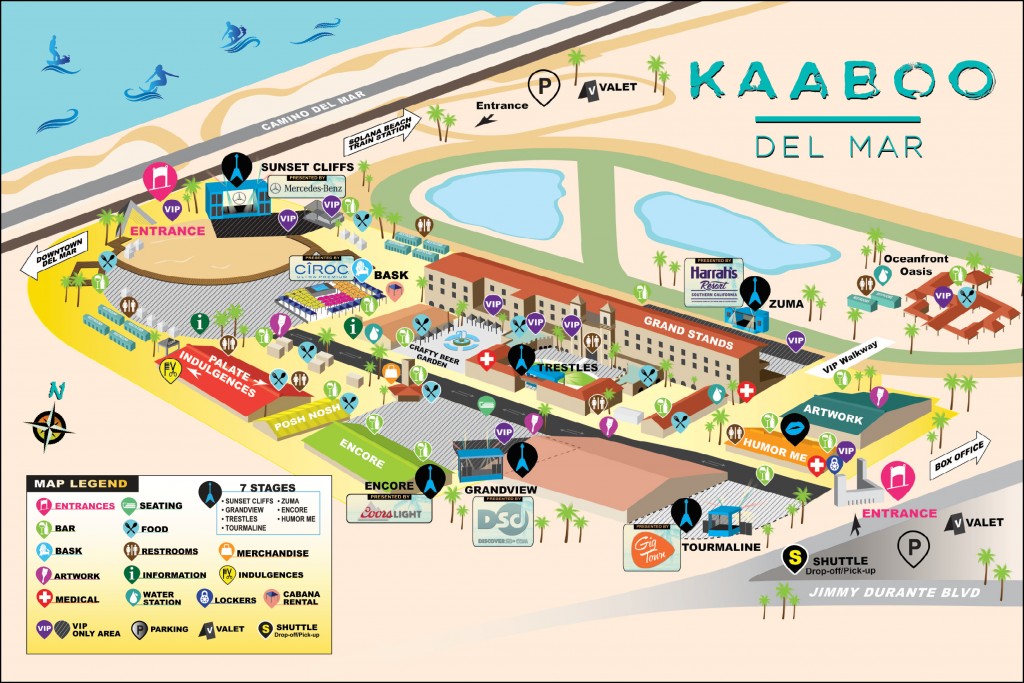 [rpi]
WHAT TO BRING:
Festival goers CAN BRING THE FOLLOWING Items:
Blankets
Beach towels
Backpacks (under 17″ x 12″ x 10″)
Empty water bottles
Binoculars
Point + shoot, non-professional-grade cameras
Strollers
GoPros (no poles or extenders)
Wheelchairs/medical scooters
Lighters
WHAT Festival goers CANNOT BRING to KAABOO:
Weapons of any kind
Drugs/drug paraphernalia
Illegal substances
Alcoholic beverages
Glass containers
Outside food or beverages
Factory sealed water bottles
Coolers
Large bags or backpacks (over 17″ x 12″ x 10″)
Fireworks or explosives
Flags or totems
Laser pointers
Umbrellas
Musical instruments, including whistles
Lawn furniture
Chairs
Tents
Pets (except service animals with current rabies certification – enter through ADA Gates)
Audio/video recording equipment
Personal shade tents or canopies
Inflatable items
Yard games
Frisbees
Bicycles (inside fairgrounds)
Rope or items to reserve spaces
Skateboards or scooters (except for medical scooters)
Drones
Stickers
Stuffed animals or dolls
Spray Paint
Unsealed eye drop containers
Unopened over the counter medications
Unopened bottles of vitamins
Marker pens
No unauthorized/unlicensed vendors allowed
No unauthorized solicitations, handbills, sampling, give-aways, etc.
PARKING + TRANSPORTATION:
Please visit our Getting There page for more information on parking.
DRIVING + PARKING:
Overnight parking for the purpose of camping in the Del Mar Racetrack + Fairgrounds parking lot or off-site KAABOO lots is strictly prohibited. If you are looking for camping options, please note that San Diego offers some RV park and campgrounds. Many are accessible to San Diego public transportation to bring you to KAABOO. For more information on city camping, please visit: http://www.sandiego.org/where-to-stay/camping-rv-parks.aspx.
IF YOU'RE DRIVING, BE ENVIRONMENTALLY FRIENDLY, SHARE THE LOVE AND CARPOOL.
KAABOO will offer on-site parking options, as well as off-site shuttle lots. For those who appreciate the greater luxuries in life, we will have on-site valet. All off-site shuttle lots will be served by complimentary luxury motor-coaches that will run throughout the event.

Please guarantee your parking selection by purchasing your preferred parking pass in advance. No on-site parking passes will be available for purchase during KAABOO at the Del Mar Racetrack + Fairgrounds. For day-of parking information, please check the website prior to arrival. Please note: Overnight parking for the purpose of camping in the Del Mar Racetrack + Fairgrounds parking lot and off-site parking lots is strictly prohibited.

Please help us respect our neighbors in Del Mar and Solana Beach by not parking in the neighborhoods or at the Solana Beach NCTD Station. Parking on residential streets in proximity to KAABOO will be prohibited during KAABOO.

The Del Mar Fairgrounds is located 20 miles north of downtown San Diego, at 2260 Jimmy Durante Blvd. in the city of Del Mar, California. From Interstate 5, take the Via de la Valle exit and head west (a left turn from the freeway exit if you are northbound; a right turn if you are southbound). Take Via De La Valle to Jimmy Durante Boulevard and turn left. The Fairgrounds will be on your right.

Del Mar Horsepark is about two miles east of the Fairgrounds at the corner of Via de la Valle and El Camino Real, at 14550 El Camino Real.

Keep track of traffic conditions around the Fairgrounds with 511sd.com. This free phone and Web service consolidates the region's transportation information into a one-stop resource, and also can be accessed by dialing 511 from any phone.
Get ALL the information you NEED TO KNOW at KAABOO website…
THE FINE PRINT:
What you NEED to KNOW about the KAABOO Music Festival in Del Mar:
Children 2 and under are free (noise-cancelling headphones strongly recommended); children 3-10 half-price.

Children 17 and under must be accompanied by a parent or guardian.

Parking/transportation is not included in any pass, but can be purchased separately when you buy your pass.

Gate times may vary based on type of pass and are subject to change.

KAABOO pass includes all scheduled activities and events. Encore late night event is reserved for guests 18 and up.

Wristbands will be fulfilled and shipped during the first week of September and should be received by September 7, 2015. If you do not receive your wristbands by September 14, please contact us at 877.987.6487.

$1 per pass purchased will be donated to KAABOO's "KINDNESS" charity program. Additional charity contributions made at time of pass purchase will be matched dollar for dollar by KAABOO.

Please be aware, the schedule is subject to change at any time.

All sales are final; no refunds or exchanges for any reason. KAABOO is rain or shine. All acts, times and locations are subject to change without notice.

About service charges; we at KAABOO make every effort to keep our service charge as low as possible. This charge helps cover the cost of pass operations, which include ticketing software fees, credit card fees, labor, ticket stock, phone fees, and more.

Events such as festivals or concerts occasionally are cancelled or postponed by the promoter, team, bands or venue. In the event of any such cancellation KAABOO will not be liable for travel or any other expenses that the customer or anyone else incurs.

If the event is cancelled or rescheduled for any reason KAABOO is not required to issue a refund and in no event will KAABOO be liable or responsible for any indirect, consequential, exemplary, incidental, special or punitive damages, or for lost profits, revenues, business opportunities, even if KAABOO has been advised of the possibility of such damages.
For the most updated information, please visit the KAABOO website
Thoughts?