50 Cent "Wouldn't Be Mad If His Son Got Hit By A Bus"?
50 Cent was recently asked about his relationship with his son, Marquise Jackson, and he FIRED BACK with a not so shocking response.
Continue on to see why Curtis Jackson aka 50 Cent has signed off on his son Marquise Jackson…
I have zero ill will towards anyone living on this Earth. The people Shanquois son looks up to and associates with is a reflection of the negative energy he embraces towards me. I paid his mother $1,360,000 in support to afford him opportunities I never had. pic.twitter.com/77bv6bRz1t

— 50cent (@50cent) December 1, 2018
CelebNMusic247.com reports that 50 Cent said that he tried for a long time to maintain his relationship with Marquise, but it just failed miserably and he had no choice but to move on.
50 Cent had this to say to the newspaper.
I've already tried so long with him. That sense of entitlement is scariest when it's someone you love. He still manages to feel deprived when he's had everything. You love the person, he's your child, and he looks at you as if you're the enemy. And, after a while, you go: this is not a kid, it's a grown man we're talking about.
Marquise is now 23 and he still doesn't compare to the time when 50 Cent went as far as to state that he would prefer to take Tekashi 6ix9ine as his son than Marquise.
Yes, that happened, and then 6ix9ine was dubbed a snitch, and Fiddy wanted nothing to do with him like Marquise.
But this image that was posted and screen captured by a gossip site is jaw-dropping, to say the least.
50 once tweeted an image of Marquise with the son of one of the men who allegedly plotted to shoot him The post was captioned:
If both these little n—as got hit by a bus, I wouldn't have a bad day.
Take a look: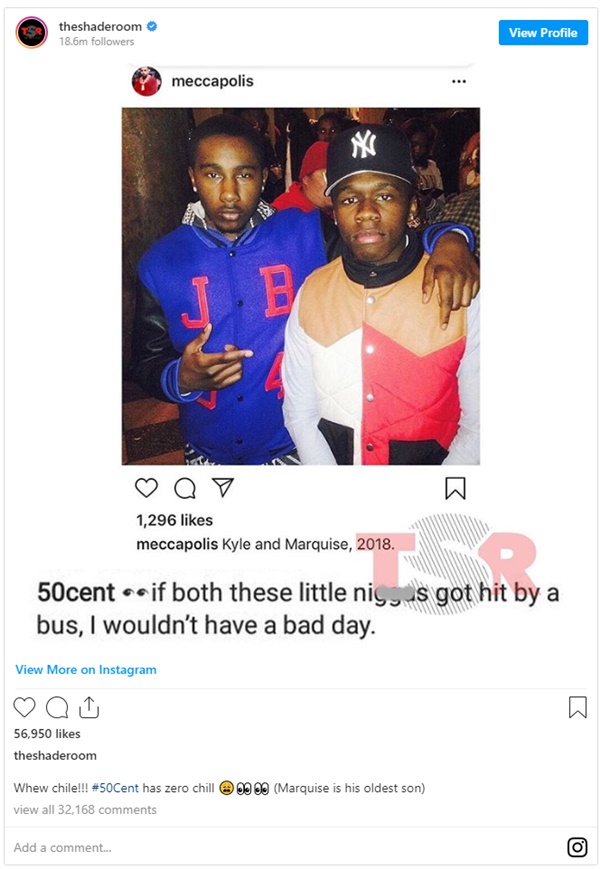 Check out this TBT of 50 Cent…Still and always looking like a snack you just want to eat all day. Yum!