Instagram TRIED to Silence 50 Cent so he went to Twitter on a posting spree.
This is NOT the first time 50 Cent had Instagram shut down his account, but Curtis Jackson isn't letting it bother him. Read on for more on how 50 Cent is dealing with Instagram shut down…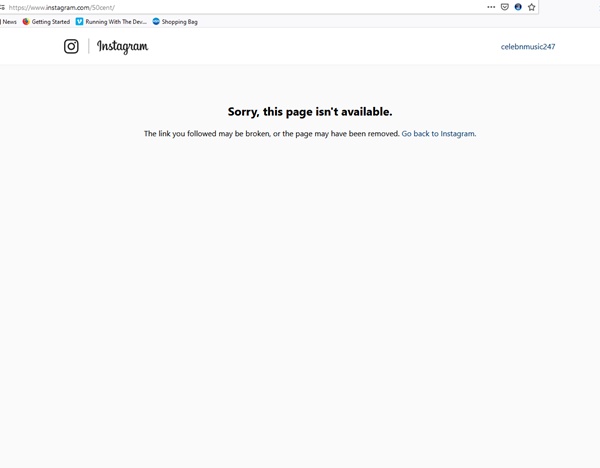 CelebNMuic247.com reports that Fiddy is all about that Twitter life after his Instagram account was shut down.
50 Cent has made his voice heard plenty of times over the past year sparking an Instagram debate about male oral sex laws after commenting on remarks Tank made on Angela Yee's Lip Service podcast.
Now that Instagram shut down his account, the "In Da Club" rapper started a random posting spree on Twitter on Wednesday, sharing everything from praise for Rachael Ray, to memes dissing Naturi Naughton and requests to track down the "50 cent army."
There doesn't appear to be a rhyme or reason to what 50 Cent has been posting — it's seemingly still him.
50 is taking the shut down in stride because he is unfazed by Instagram this time around.
Take a look at the random posts by the "Candy Shop" rapper:
?POWER is the #1 show, get the STARZ app now. #lecheminduroi #bransoncognac @forlifeabc pic.twitter.com/kZLsumf4f9

— 50cent (@50cent) November 13, 2019
Never a dull moment pic.twitter.com/WMnhW98w8W

— 50cent (@50cent) November 13, 2019
I think Rachael Ray is the best ???? pic.twitter.com/xJjmMztIG0

— 50cent (@50cent) November 13, 2019
What is this shit, I'm trying to find my army. ? pic.twitter.com/KMEqIJv5ug

— 50cent (@50cent) November 13, 2019
?Who the fuck did this, POWER is #1 pic.twitter.com/XcGFts5yZn

— 50cent (@50cent) November 13, 2019
FOR LIFE coming soon on ABC Feb 11
Must see Tv pic.twitter.com/5CCCRcfdDz

— 50cent (@50cent) November 14, 2019
Now playing pic.twitter.com/5pL7sEfarf

— 50cent (@50cent) November 14, 2019