Word is, rapper Young Buck attended a gay pride event in Nashville this weekend.
Get the tea spill on former G Unit rapper Young Buck was purportedly seen at an event which celebrated LGBTQ culture, according to Gay Nashville. Read on for more about Young Buck Spotted at Gay Pride Event in Nashville…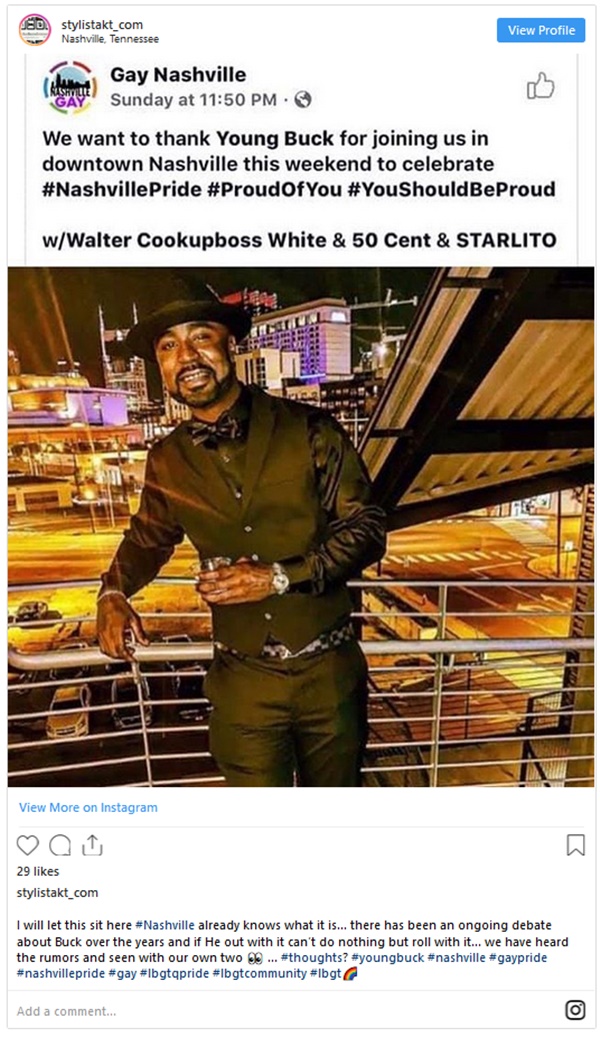 CelebNMusic247.com has learned that many celebrities both gay and straight attended gay pride events this weekend, according to popular LGBTQ Twitter feed.
June is Gay Pride month and despite all the rumors and denials from Yung Buck being gay, the rapper was out and about at Nashville Gay Pride.
Last year, Young Buck came under fire after a video surfaced that he was having a sexual relationship, transgender female.
In March, the transgender model posted a clip in which Young Buck was heard saying:
Take that s**t down. I have to go out and let people know that this is not real. I don't know what the f*** happened. I just know it ain't me and I ain't fu***** gay.
Since then, the former G-Unit member has been the bunt of the jokes from his former friend rapper/mogul 50 Cent.
50 Cent recently told Young Buck to come out of the closet and now maybe this is the first step for Buck who has been allegedly hiding his relationship with the trans.
Buck has been returning the shade to 50, he recently took to Live and unleashed on Fifty after he spotted him trolling the video.
Last week Young Buck CLAPPED BACK at Fiddy with two dis tracks "Foofy Freestyle," in which he claimed he ghostwrote a number of songs for Fif. Then, he took more shots at the G-Unit rapper with "The Story of Foofy" allegeding Vivica Fox used to do Fifty with dildos.