What Allegedly Caused The Young Dolph vs Yo Gotti Beef?
Gotti and Dolph were both raised in Memphis, Tennessee, and became competitors once Dolph rose up on the Southern hip hop scene.
What caused the beef?
View this post on Instagram
According to Young Dolph he had no beef with Yo Gotti, he felt they both could be a success for Memphis because there was enough space for everyone, CelebnMusic247.com has learned.
In 2017, Dolph sat with The Breakfast Club discussing the rumored rift with Gotti:
It ain't no issue. It ain't no beef. It ain't no nothing. It's just a whole lot of misunderstandings and some stuff I don't respect.
Though, Dolph continued to refer to Gotti as "lame" throughout the interview.
It has been rumored for years that Gotti and Dolph have had been feuding.
Was it nothing or was it a bunch of misunderstandings like Young Dolph claimed?
There are theories out there claiming that it could have started after Dolph named his debut album King of Memphis, a title that fellow Memphis rapper Yo Gotti had repeatedly referred to himself as.
On Feb. 11, 2016, Dolph alleged that Gotti wasn't a fan of his growing success, taking to Twitter to post:
Bra went from bein my #1 fan and wanting to sign me to bein my BIGGEST HATER.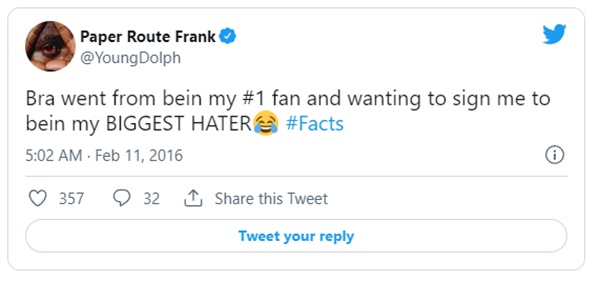 In 2017, Gotti's CMG artist Black Youngsta took to Instagram to record an expletive-filled video claiming that he was going to "smack the s***" out of Dolph.
Black Youngsta upped the ante by allegedly showing up in Young Dolph's neighborhood in Memphis with several of his posse, who were heavily armed, reported XXL.
View this post on Instagram
XXL reported that Yo Gotti, the most established Memphis artist to emerge this decade, has found a bit of competition in the form of Young Dolph, a Chicago-born, Memphis-raised rapper who has also been making major noise of his own. Launching Paper Route Empire in 2008, Young Dolph began making waves with his High-Class Street Music mixtape series, leading to collaborative projects with Gucci Mane and Peewee Longway.
On November 17, Young Dolph was shot and murdered. There is no suspects and no witnesses at this time.