When it comes to who can and who can't use the N-Word, rapper Vince Staples states that he HATES the "N-Word" Conversation!
Read on to see what Vince Staples is saying about the "who could say the N-Word" conversation…
CelebNMusic247.com has the latest on Vince Staples who is now letting his voice be heard when it comes to the long-winded debate on "who could say the N-Word" conversation.
Over the weekend, Kendrick Lamar invited a white fan on stage to perform the song "M.A.A.D City" with him. Things apparently went left when she said the N-word.
The white girl struck a nerve with many concertgoers, especially, after she uttered the n-word and was given a warning by K. Dot before he kicked her off the stage for her lack of rhythmic delivery.
Meanwhile, Jerry Helligar wrote an article for Variety about why rappers should consider retiring the n-word. Helligar explains why he thinks rappers should "rethink how they deliver their message" and how dropping the word from their song's wouldn't take anything away from the song's message.
Vince Staples saw the article and is now weighing in on the subject matter and the controversial word. Staples took to Twitter earlier today to address Variety's article.
The rapper quoted their tweet and wrote:
Lol, you n****s wild for this.
He followed his response with:
I hate the "who can say the n-word" conversation.
Unfortunately, he didn't elaborate further on why he hates the conversation. Though he did go on to say this:
The most interesting part of this tweet is people responding with their stance on the conversation.
Take a look at the Tweets below: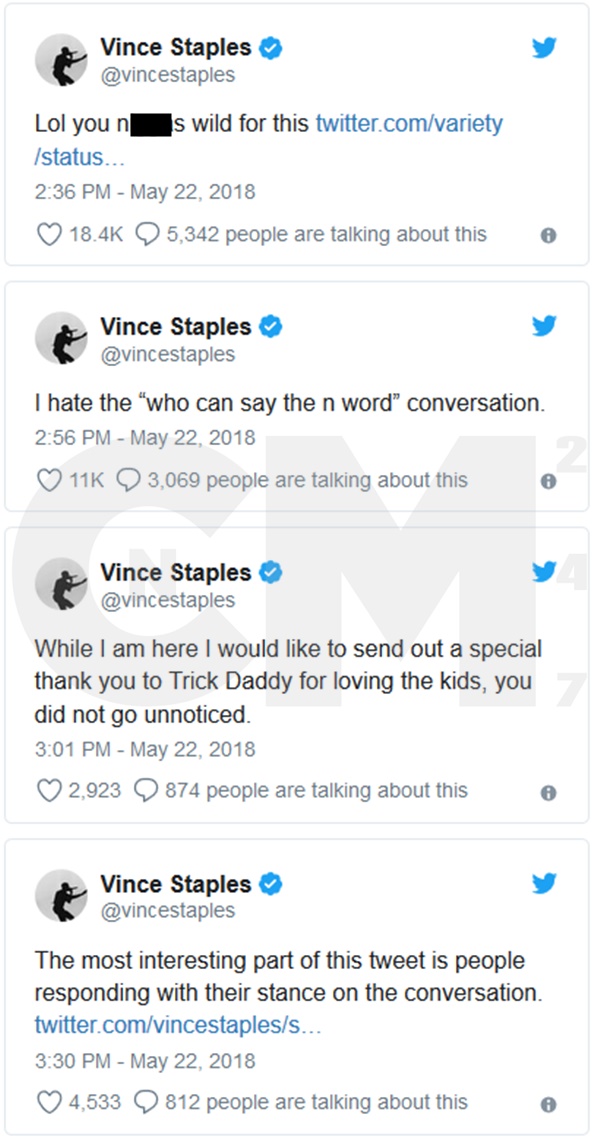 Celebes, we don't know your thoughts on the n-word but we feel that the word should be retired. It is derogatory no matter who uses it.  Despite it being in almost every hip hop song across the board, its one of those words that are on the fence because if you are NOT black it is NOT allowed, even if your black friends say its cool. Basically, it's easier NOT to use it because if you use the n-word with your friends, it may not be smart to say it around others in the black community because you don't know them and they don't know you. It will be taken the wrong way and cause an unnecessary issue that could be avoided if you NEVER use it!
We understand Vince Staples position, but he's a black man saying its cool? It would complete being different if that was Eminem saying its cool, everyone would take it the wrong way and he's part of hip-hop culture.  Point made? How about this, lets lay the N-WORD to rest! #RIPNWORD