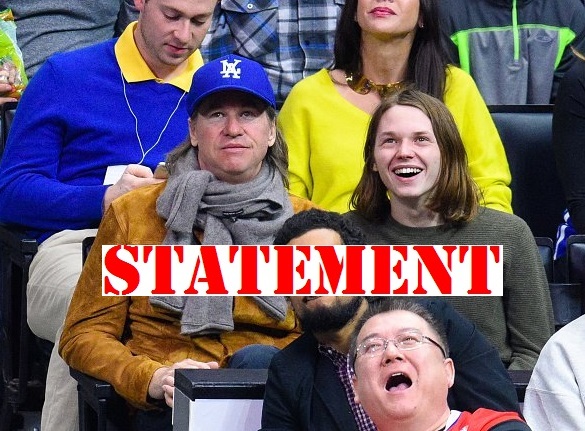 Val Kilmer Undergoing Tests For Possible Tumor!?!
Yesterday it was reported that Val Kilmer was hospitalized for a Throat Tumor and now the Top Gun actor released a statement. Although his rep confirms that Val Kilmer Undergoing Tests For Possible Tumor.
We reported yesterday that Val Kilmer, best known for his roles in "Top Gun" and "The Doors" films, was RUSHED to UCLA Medical Center, Santa Monica. Doctors performed surgery and he's currently recovering.
[rpi]
Val has released the following statement on his Facebook page:
"Thank you for all your sweet support. But I have not had a tumor, or a tumor operations, or any operation. I had a complication where the best way to receive care was to stay under the watchful eye of the ucla ICU. Friends have assisted who know my spiritual convictions and have been most sensitive and kind for the extra effort in making sure there's minimum gossip and silly talk.  I am praying for a speedy return to the boards as they say.

God bless you all and please don't worry. Love and deep affection

– Val."
Contrary to his earlier Facebook post, CelebNMusic247.com has learned via USAToday that Val Kilmer is undergoing tests for a possible tumor, according to his representative.
Liz Rosenberg confirmed late Saturday afternoon to the Associated Press that the 55-year-old actor is at a Los Angeles hospital and that doctors are "encouraged by his progress" and hopeful he will make a full recovery.
We are glad to hear that, get well soon Mr. Kilmer. God Bless!
Related articles