Trey Songz Denies Dylan Gonzalez Sexual Assault Allegations!
Dylan Gonzalez breaks her silence on being allegedly sexually assault by Trey Songz…
View this post on Instagram
CelebnMusic247.com reports that Dylan wrote via Twitter, "Trey Songz is a rapist. Lord forgive me I Couldn't hold that in another year. See you in 2022" on December 30th just before the new year came.
The tweet went viral and got the attention of millions. Dylan followed up by releasing a full length statement via Instagram.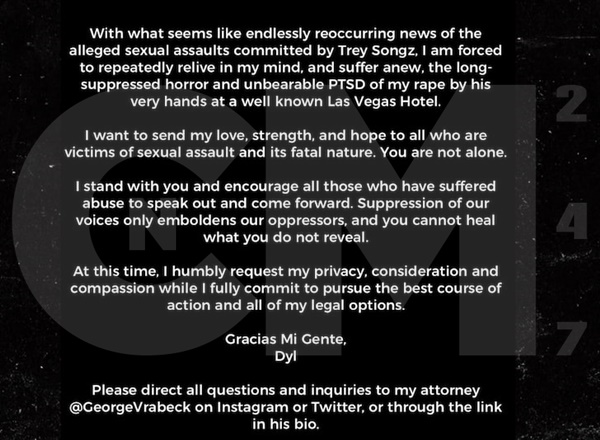 Meanwhile, once again, Trey Songz is denying allegations he raped a woman in a Sin City hotel. In fact, his team telling us he will be exonerated after the legal process plays out.
A source close to Dylan tells us the incident happened several years ago.
But a rep for Trey tells TMZ … "Trey and his team are confident in the legal process and that there will be an abundance of exonerating information to come over the next few weeks."
Dylan's legal team, attorneys Ariel Mitchell and George Vrabeck, tell TMZ … they will consider pursuing any and all legal avenues and will take action in the next few weeks, with plans for filing a civil suit. They do not mention anything about filing a police report or criminal charges.
Gonzalez has a few singles out and got into music after starring on the UNLV women's basketball team.
Trey is already being investigated for a separate alleged sexual assault in Vegas … as we first told you, that alleged incident went down at The Cosmopolitan.