Timbaland has made it clear he's NOT fond of neither collab since it's known that he is VERY protective over collaborations with Aaliyah, since she was like family to him!
We find it very interesting that Young Money rapper Drake does a Posthumous track with the late Aaliyah "Enough Said."
Then Chris Brown who is allegedly at odds with his rival does the same thing and records a posthumous track with Aaliyah.
Timbaland offers a public apology to Chris Brown regarding his comments on artists collaborating with Aaliyah in a recent interview. Aaliyah album, to which Drake was attached, Timbo questioned its authenticity, and now the album has seemed to have faded into non-existence.
That hasn't stopped Rihanna's ex-Chris Brown who is the most recent singer to use her vocals on his track"Don't Think They Know."  Although, the song was generally well-received, in arecent interview with Revolt TV, Timbo was adamant that working with Aaliyah posthumously won't work unless it's with him, her "soul mate," he said.
Timbo shaded Chris Brown Collab as well as Drake's, saying:
"In music, people always say I'ma do a song with Aaliyah. It will never work. Chris Brown got a record– it won't work. Drake can go do a record– it won't work. 'Cause Aaliyah music only work with its soul mate, which is me."
In a interesting change of heart, Timbaland took to his Twitter to apologize for his shot at Breezy, although he makes no mention of Drake. 
Timbaland wrote on Twitter that he actually enjoyed Chris' R&B collaboration with Aaliyah.
Timbaland writes: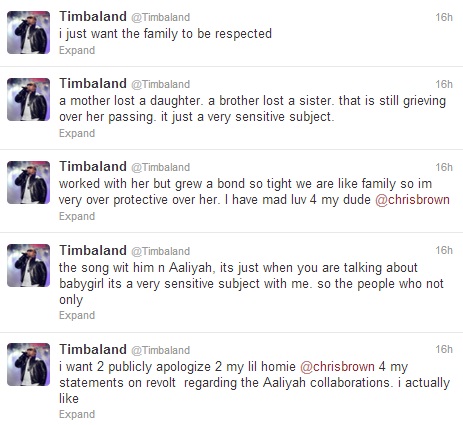 Here is the Chris Brown collab with Aaliyah "Don't Think They Know" – To hear Drake's collab with Aaliyah CLICK HERE
Related articles