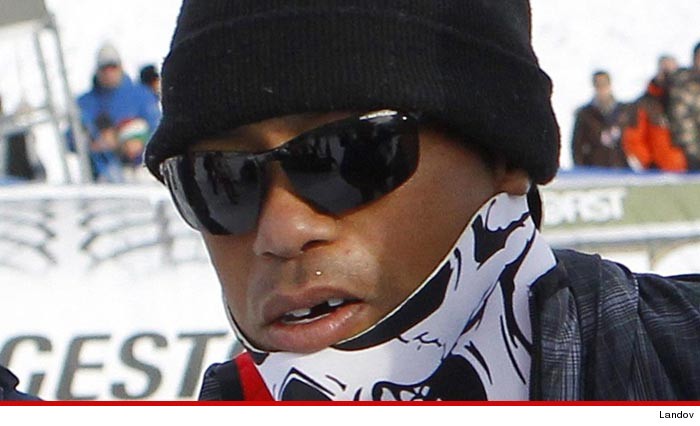 Tiger Woods Got Tooth Knocked Out of his Mouth?!?
You probably already heard about Tiger Woods, but if you haven't did you hear Tiger Woods Got Tooth Knocked Out of Mouth!
Tiger is giving fans in Italy his best country smile…LOL!
Tiger Woods made a surprise visit to Italy on Monday to watch girlfriend Lindsey Vonn capture her record 63rd World Cup race. The photo generated lots of buzz when it people noticed that Woods was missing his front tooth.
[rpi]
The culprit, according to his agent, was a camera.
Here is the 411 via ESPN:
According to his agent, Tiger Woods had a tooth knocked out by a video camera while celebrating with girlfriend Lindsey Vonn on the podium following her record 63rd World Cup skiing victory.

"During a crush of photographers as the awards podium at the World Cup event in Italy, a media member with a shoulder-mounted video camera pushed and surged toward the stage, turned and hit Tiger Woods in the mouth," Mark Steinberg of Excel Sports said in an email. "Woods' tooth was knocked out by the incident."

Race organizers said this was not reported to them. They added that Woods did request extra security and a snowmobile to exit the finish area, and organizers met both requests.
Nicola Colli  says that Tiger "never seemed like he was in pain."
While his reps tell TMZ:
" Colli told an Italian-speaking member of our team … "It's just funny and strange that he would claim something went wrong when everything seemed perfectly OK."

"You would think that if somebody hit you – somebody would say something. But [Tiger] told us nothing."
Related articles