Tekashi 6ix9ine is surely trying to PISS a bunch of rappers off talking out the side of his neck.
6ix9ine has been hearing an earful from his fellow MCs about his snitching, and like us none of us respect a RAT SNITCH! Now, Snitch9 feels he's protected enough to talk a lot of smack to some rappers who are NOT fans. Read on…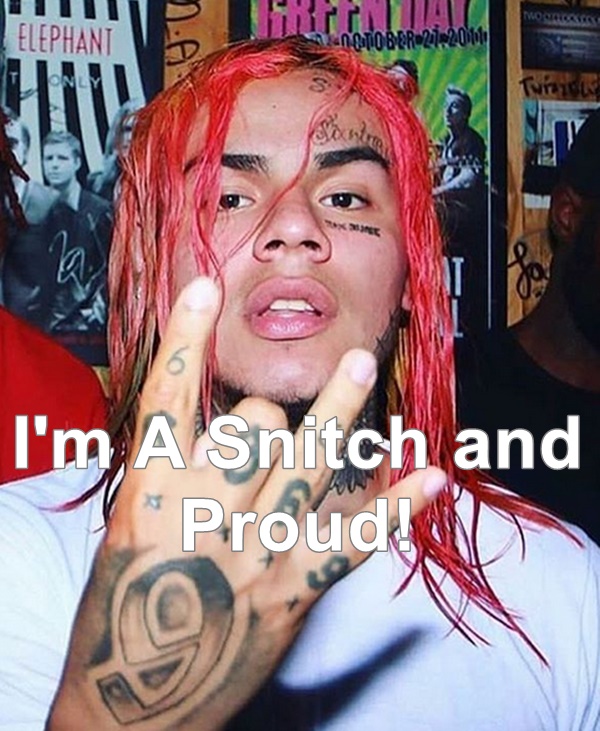 CelebNMusic247.com has the latest from Tekashi 6ix9ine who is well aware of the hate he's been receiving either on camera, in interviews or on social media from his peers, but he doesn't give a crap.
Nope, not at all, Tekashi 6ix9ine is still acting untouchable and if letting all rappers know that he thinks they are jealous, washed-up has-beens.
And get this, sources say that Tekashi believes him testifying against his old crew will be forgotten almost instantly as soon as he's released from prison.
Not only that, 6ix9ine believes that he'll be more popular than ever with the masses.
Isn't delusion grandeur?
What an F'n idiot, but hey that's just our opinion. Nobody cares about 6ix9ine. And do believe once an informant for the FEDS always an informant for the FEDS.
As for the rappers (Snoop Dogg, Game, Irv Gotti, Cardi B, 50 Cent, Meek Mill, 21 Savage, Jim Jones and more) who have BLASTED Tekashi, he thinks those folks are foolhardy haters.
There are more artists we talked to that are pissed, like The Game, Irv Gotti, Skinnyfromthe9 and even Rap-A-Lot Records honcho J. Prince.
Irv believes the new-gen is full of snitches and they'll, unfortunately, mess with 6ix9ine if he drops a hit record, but that says a lot about the Millenials. They just have no morals or standards anymore which is why the f'd up.
As for Snitch9, it seems like he's going down the ignorance-is-bliss road and sticking to it, all without witness protection to boot.
We don't believe hip hop will be a safe place for him anymore, and smart rappers won't mess with him. The dumb one, if they do, are exactly that, dumb for working with him. We all know he'll snitch again to save his own @ss.
He will never have anyone back except his own. Not even his 24/7 security.
When asked about the statements Tekashi's attorney, Dawn Florio … she declined to comment.
Right now, hip hop is a better place musically without Tekashi 6ix9ine, hopefully, the industry will keep it that way. Hopefully no greedy and thirsty @ss producer will give him a second chance, give it to a real rapper who deserves a chance – NOT a snitch! That says a lot about their character.