(CelebNMusic247-News) T.I. and Tiny Marital Dramas Blow Out of Proportion
We reported over the weekend that T.I. and Tiny's marriage was in jeopardy and now T.I.'s camp is singing a different tune calling the rumor FALSE.
Rap tycoon T.I., 33 fueled the rumors with a cryptic message on Instagram which sparked RUMORS that he and his wife of 4 years, Tameka "Tiny" Harris, 38 were headed for divorce.
What apparently happened during the Grammys was Tiny wanted to walk the red carpet and Tip didn't. The two had an argument and of course rumors spread that they were on the verge of divorce.
The rumor buzz couldn't come at a better time, since Tiny has a new Tequilla to promote and Tip is on a new TV series.
Here's the drop via Sandrarose:
The site reached out to a source in T.I.'s camp, who was with the rapper in Los Angeles to attend the 56 Annual Grammy Awards. According to my source, T.I. and Tiny traveled together to LA — and as far as the source knows, there are no plans for a divorce. All couples experience ups and downs in the course of their relationship. In Tiny and T.I.'s case, the pressure is unrelenting. For instance, there are rumors that T.I. recently violated Tiny's trust by sleeping with one of her female friends. But that's nothing new.

Another rumor has it that T.I. refuses to support Tiny's new business venture, a line of tequila, because he feels it sends the wrong message to their young fans. T.I. and Tiny have 2 sons together. T.I. also has 3 children with other women, and Tiny has a daughter from a previous relationship.
On the flipside, T.I. adds more fuel to the fire posting this caption on his Instagram along with this photo:
"Hell yeah… And shall remain solid. Thru & thru….Always!!!! God is great!!!! So I'm gon always be good. No matter how many lies are told. No matter how many stories are told & sold . I AM errrthing I say I AM. Head of MY FAMILY & Leader of MY TEAM!!!!Never gotta think twice bout how I'm doin….. #BetterthanU #trust #Facts #FamilyHustleorDie#hustlegangovererrrrthang"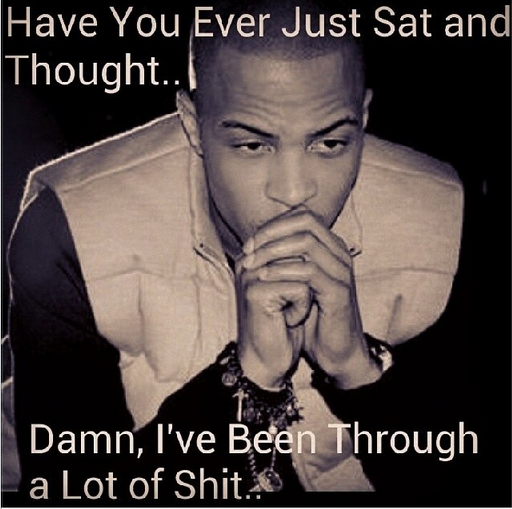 Related articles