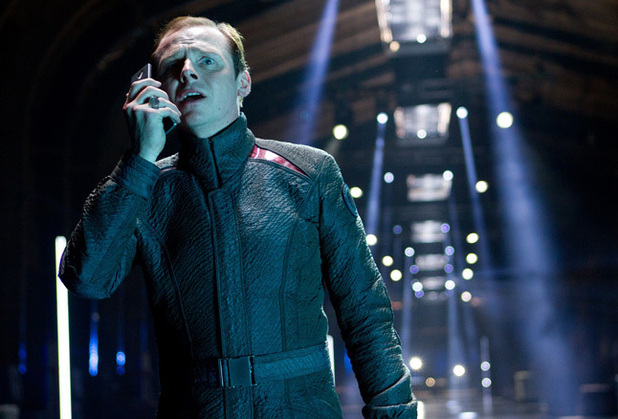 Simon Pegg's Star Trek 3 Script Too Treky!?!
You can already tell JJ Abrams is NOT on board for Star Trek 3, because Scottie aka Simon Pegg's Star Trek 3 Script Too Treky.
Dab nab man, tone it down Scottie! "I-I Captain."
Simon Pegg  plays Scottie in the Star Trek franchise, but the actor/ writer openingly admitted to trying to big up his part in the next Star Trek film
CelebNMusic247.com has this report [via DS]:
[rpi]
The actor and writer – who also plays Scottie in the series – said that the studio was "worried" that a previous version of the script wouldn't appeal to casual cinema-goers.

Pegg and Doug Jung are currently working on a new script, following the departure of Roberto Orci from the project.

He told the Radio Times: "They had a script for Star Trek that wasn't really working for them. I think the studio was worried that it might have been a little bit too Star Trek-y.

"Avengers Assemble, which is a pretty nerdy, comic-book, supposedly niche thing, made 1.5 billion dollars. Star Trek Into Darkness made half a billion, which is still brilliant.

"But it means that, according to the studio, there's still one billion dollars worth of box office that don't go and see Star Trek. And they want to know why. People don't see it being a fun, brightly colored, Saturday night entertainment like the Avengers.

"[The solution is to] make a Western or a thriller or a heist movie, then populate that with Star Trek characters so it's more inclusive to an audience that might be a little bit reticent."

Justin Lin is to direct the new film, thought to be titled Star Trek Beyond, following the departure of Abrams to direct Star Wars: The Force Awakens.

Earlier this week, Pegg had to clarify comments he made about the 'dumbing down' of cinema in recent years, after he appeared to take issue with the number of science fiction and fantasy movies being released.
Star Trek 3 will arrive in cinemas on July 8, 2016.
What do you think?