Kanye West continues to NOT make friends, this time he could stop using his phone during Cher's Broadway Musical, so cast member Jarrod Spector put the Grammy Award Winner on blast.
Read on to see what Jarrod Spector did on social media which FORCED Kanye West to apologize for his "Lack Of Etiquette" during 'The Cher Show'…
CelebNMusic247.com has to admit, the rudest thing anyone can do is be texting on a phone or talking into a phone during a performance like Cher's Broadway Musical.
Thankfully, Jarrod Spector checked Kanye West using his Twitter-fingers to point out Kanye's musical etiquette.
Sorry, FACTS are FACTS and this is NOT a concert where people are videotaping one of Kanye's rants for attention on their cellphone.
This is a musical where people are actually acting, singing and dancing. They're NOT just singing their songs on stage and doing whatever they want to get the crowd hyped.
Here is what happened, during the opening night of the Broadway play, "The Cher Show" – a musical chronicling the life of legendary singer, Cher.
Kanye West and wifey Kim Kardashian-West, who loves Cher attended the show, but Ye was too busy to watch the performance. Instead, he was face down in his phone which NOT only bothered the people sitting around him, but the actors on stage, because they could see him.
That is why actor Jarrod Spector checked Kanye for his "Lack Of Etiquette" during 'The Cher Show' as he should have done.
Spector tweeted:
Hey, @kanyewest so cool that you're here at @TheCherShow! If you look up from your cell phone you'll see we're doing a show up here. It's opening night. Kind of a big deal for us. Thanks so much.
Of course, Kanye quickly replied with this response:
The dynamics of Cher and Sonny's relationship made Kim and I grab each other's hand and sing "I got you babe" please pardon my lack of etiquette. We have so much appreciation for the energy you guys put into making this masterpiece.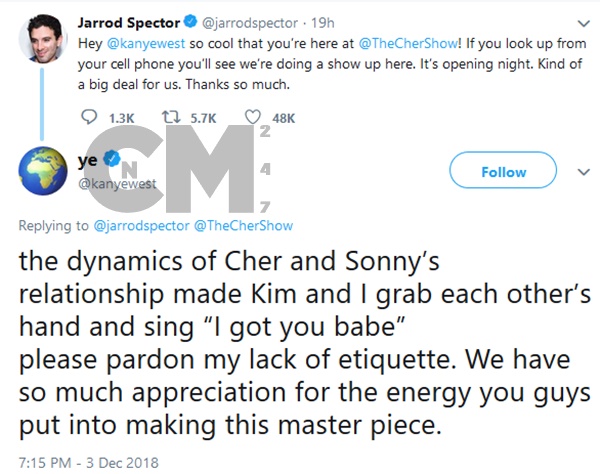 Helping to smooth his disrespectful manors, a source is now claiming that Kanye was taking notes because he thought the show was so amazing.
Basically, that means Kanye was stealing ideas from Cher's musical and things that she's already done on stage. So original Ye? NOT!