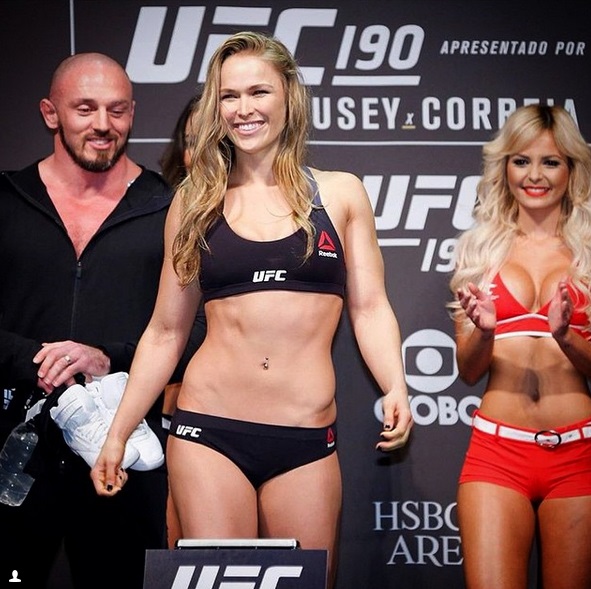 Ronda Rousey Stars In Road House Reboot!!!
Oh Lawdy, move over Fantastic Four there is a new movie about to be ruined since Ronda Rousey Stars In Road House Reboot, taking on Patrick Swayze's role.
Yes its true, Ronda Rousey, who has proven herself as an action star is taking on Patrick Swayze's role in the re-boot of the 80s cult classic Road House, which is due to begin shooting in 2016.
Somewhere Patrick Swayze is rolling over in his grave saying "oh the pain, the pain!!!"
You might not remember the '80s cult classic movie Road House, but it was one of Swayze's blockbusters next to Dirty Dancing and Ghost. Road House has apparently become the latest cultural artefact to get a modern makeover at the cinema, but this time it's with a twist. Well not that much of a twist, they're swapping out the lead role for a female and since Rousey is the hottest ticket in town, Hollywood is trying to make movies to adjust to her acting abilities.

Yes, Road House is not the best acted film, but the action is great, so it makes sense that the UFC bantamweight champion fighter Ronda Rousey has been cast in the lead role, as Patrick Swayze's character from the original.

Basically, that stereotypical depiction of '80s masculinity is getting a female re-boot, according to the initial report by Variety.

Swayze's James Dalton being hired to restore order to a boisterous roadside dive bar in Missouri, a role we can see Rousey's no-holds-barred approach being totally suitable for.
[rpi]
Let us add it up for fans – Rousey can look pretty, fight a lot and have minimal lines, because let's be serious, she has been in supporting roles, so for her this is a big deal to carry a whole film with her as the lead. If it does well, most like the studio will offer her a three movie deal of action films like the did back in the day for Statham, Van Dame, Jet Li, Stallone, Arnold Schwarzenegger and Bruce Willis.
Good Luck Rhonda, but please make sure not to have the film end up like that disaster movie Haywire that starred, Gina Carano, who can't act even if her life was on the line. Do you know we saw the unedited version and her acting was so bad they had someone else's voice dubbed over hers because she was so terrible?
Over the years, Gina has gotten a little better, but she has minimal lines and stars in action based films. She has a slew of action films coming out like Bus 657, a untitled film, Kickboxer: Vengeance, Deadpool, Sergeant X, and Extraction.
As for Rhonda Rousey, since her appearance in Furious 7 and Entourage she can be seen in the upcoming Mile 22 and the newly announced Road House.
Thoughts?