Rick Ross Getting Real "Close" w/ Muscular Wrestler!
Maybe Rick Ross has a friend who is white and happens to wrestle?  Let's not forget that Big Boss Rick Ross hooked up with the WWE last January.
No matter what Rick Ross is doing CelebnMusic247.com doesn't care, but, of course, entertainment insiders are talking and they think the relationship is "suspect."
Rap superstar Rick Ross is a generous man with his close friends, so he can do whatever he wants.
And apparently, the 45-year-old Maybach Music leader struck up a friendship with a 23-year-old Parker Boudreaux who is an up and coming "prospective wrestler." His original background is football.
The two are becoming increasingly close, and it's being said the "boss" rapper dropped thousands to buy his new homie a Mercedes Benz.
It's called bait and hook to sign him.
Anyways, their friendship has raised quite a few eyebrows among entertainment insiders, reports CelebnSports247.com
Ross, who now lives in a gigantic mansion in Atlanta, has been spending an increasing amount of quality time with his new friend and gleefully posts their time together on Instagram.
Last month, Parker posted a pic of his new Mercedes Benz. According to folks in Atlanta, the Mercedes looks strikingly similar to one that Rick Ross used to drive:
Just bought a Benz at 23? #Blessed pic.twitter.com/ZWhmiKo29o

— Parker Boudreaux (@harlandwwe) August 10, 2021
Maybe, Ross gave him his old ride?
The two have been posting pics with each other on IG Live. Here's a pic of Ross and the Florida wrestler – hanging out with the wrestler's mom: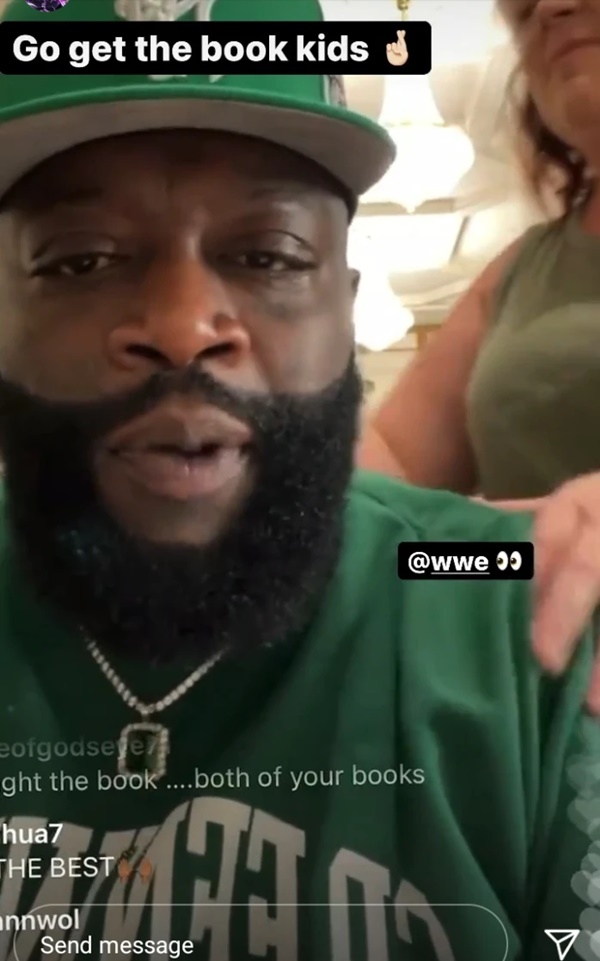 Parker also posted an image of himself at Ross' mansion last month. The two posed together on Rick Ross' custom basketball court:
Me and the Big Bro @RickRoss got something coming for you all??? pic.twitter.com/ltzUzKU9VM

— Parker Boudreaux (@harlandwwe) August 1, 2021
Hey at the end of the day, we will probably be hearing whats happening with these two…