Earlier this year we previously reported that  Erykah Badu was the face of Tisci's Givenchy's Spring 2014 Campaign and now fashion designer and Givenchy's Artistic Director Riccardo Tisci Talks Erykah Badu In Paper Magazine
CelebNMusic247.com got the tip via our friend DonBleek that the Dallas-bred and celeb fave designer were lensed by Theo Wenner for the cover story, Tisci talks about meeting Badu and connecting with her for the first time. In the October issue of Paper Badu talks about how her friendship with Tisci begun, shooting with Mert & Marcus in the past.
Here are some highlights from the interview:
Tisci on meeting and connecting with Badu for the first time:
"The first time we met was at one of her concerts in New York a few years back. But the first time we actually connected was when she arrived to the set of the campaign. I was so nervous — it is rare to spend time with one of your idols, and she is truly one of my ultimate ones. She was nothing short of what I had in mind. She arrived with the most outrageous hair (a solo braid long to the floor) and an amazing hat. She was the exact definition of style according to me. We clicked immediately. We hugged and talked for so long, about everything and anything. And we share so much more than aesthetics… I love her."
Tisci on what drew his attention to Badu:
"You know, I grew up with my mother, surrounded by eight older sisters, so the only characters I could relate and look up to at a young age were women. I think that gave me a creative mindset. I tend to always be looking for the strong, fearless, bold independent woman. That's exactly what drew me to Erykah. I didn't know her personally but I was so attracted, it was obsessive. She's a modern warrior, a tribal goddess that I couldn't shake off my mind. I am so happy we are friends today.
Tisci on Badu styling the looks on the campaign set:
"On the campaign set, she started styling the looks she was supposed to wear and I was amazed. The effortlessness was striking. Everything she put together worked perfect and screamed Givenchy. She came with her own personal stuff in case we were to need it, and I discovered that she owned many pieces that I designed. That's when I realized we shared the same taste."

"What people don't suspect is how involved she is in every aspect. We have mutual respect for each other: she'll ask me what I think, and I'll ask her opinion too. We nourish each other. But she is so on it — it is very refreshing. She always adds her touch, knows about fashion, about hair, make-up, photography, everything. Her art isn't just music; it is reaching a concept at its highest level in every discipline."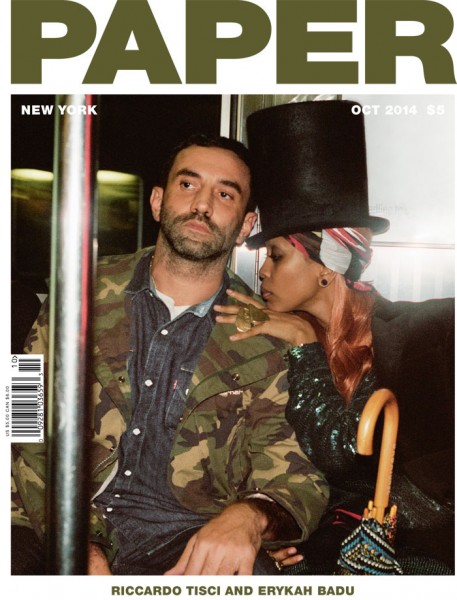 Tisci gives a quote that defines Badu:
'"Bow Down Bitches!' She has paved the way for so many of today's artists. I see a lot of visuals and hear a lot of music nowadays that are related to her legacy. She is an icon in that way."

"Erykah is the perfect Givenchy woman. She has that ambiguity, that contrast of high-end fashion meeting street culture. She'll wear an haute couture dress with Nike sneakers without ever doubting the association. It is very rare for a designer to witness their vision of the woman come to life, and that's what Erykah does for me. That's why she is #verytisci."
Then Erykah spoke o  dating status hand her friendship with Riccardo Tisci?
"Last year, Riccardo reached out and let me know that he was a fan of my music. At the same time, I let him know that I was a fan of his eye. We were talking and he asked me to be the face of his campaign for [Spring] 2014, which was culturally themed and all of the models in the campaign were of color. He thought that the line would particularly speak through me. I said, "OK!" It was the first time I had done anything like that, besides the Tom Ford perfume ad."
How did the shoot compare to the one that you did for Tom Ford?
" A lot. It was the same photographers, Mert and Marcus. Every time I shoot with them, it's like we're a little family. They're editing on the spot, and they're so amazing. It makes me feel so comfortable and at home."
Did styling feel like it came naturally to you?
"Yeah, I love styling. Riccardo recognized that talent in me and he allowed me to be free with it, choose my garments and layer them."
#RiccardoErykahPaper
Read more at Paper Magazine
Photos Credit: Theo Wenner
Related articles