During the Love & Hip Hop NY Season 3 reunion Rashidah BLASTS Yandy Over Mendeecees Heartbreak!!!
Love & Hip Hop New York may be over, but it seems the chapter has some unknown news about yandy Smith, according to Rashidah…
During the reunion show Rashidah revealed that her man put a ring on it and that she was pregnant, but when she was asked about Yandy and Mendeecees Harris she dished the dirt!
The LHHNY newbie Rashidah became a bit of a problem for the couple after she got word about some comments Mendeecees made about their past together. Rashidah took shots at Mendeecees and his manhood during the reunion, while Yandy Smith kept it together while on the show. Smith is a classy woman, so she took to her Instagram account to clap back.
To recap, Yandy Tweeted: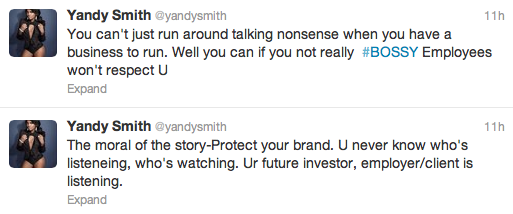 Smith followed her Tweet's with a Instagram post which read: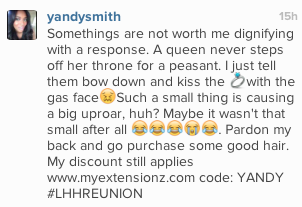 Then without surprise, Rashidah aired all the her dirty laundry about Mendeecees Harris, whom she was sleeping with while Yandy and he were together. She also claims that  claimed that Mendeecees was still out in the streets messing around so much that he didn't come home often before his current prison bid. Maybe that is why Vado, born Teeyon Winfree, was so shocked when Menz said he was gonna ask Yandy to marry him.
Here is what Rashidah revealed to VH1:
"It's not that I even have a problem with her [Yandy]. You know what I'm trying to say? It's just the situation, like for instance, yesterday when she was like, "You're leaving these women scorned and heartbroken," I was like, "B—, what the hell are you talking about?" You're not going to deal with facts; you're just going to say anything. I don't f— with b—s like that. Speak facts. Speak real s—. Don't just say s— because it's good, like, am I 7' tall or am I 5'6? — you're more about just saying s—, I like to deal with facts. I like to deal with the fact that you know that n— don't come home at night. You know it, and I know it. I want to deal with that. I don't want to deal with you being 9' tall — that's not a factual thing. That's frustrating to me. People that just throw stuff out there that's not valid, it's not legitimate, you're just making up stuff. You're looking for punch lines, is what you're saying. How can I respect you? You want to be portrayed as a businesswoman, but really what are you doing when the show's not filming? I don't see s—. It's a facade to me."
Rashidah has also come forward admitting that she was annoyed that Yandy keeps trying to label her as being "heartbroken" over Mendeecees, because, she claims that Yandy new about Rashi and Mendeecees kicking it while they were together.
Rashidah adds:
"What?! Heartbroken? She wants to say, "Oh, you f—d him," but then she wants to say it was 10 years ago, too. You want to try to expose people, but you want to make sure it doesn't make your relationship look crazy. You want to make it look like, "Well, he didn't do this while he was dealing with me, though." Girl, let's stop it. Ten years ago and I'm coming up to you now to say something about him mentioning me? Does that make any sense? So you're not going to deal with facts. So I'm going to handle you like you a b— that doesn't deal with facts."
ladies, ladies, ladies!!! No need to get ugly over Mendeecees…you both can do better. Just saying!
Comments
CelebNMusic247 brings you latest news on celebrity daily…Stay Connected to CelebNMusic247.com: Follow us on Twitter – Like us onFacebook and Friend us on YouTube 
Related articles