Rapper Pooh Shiesty Denies Video In Bed With Transgender!
Pooh Shiesty continues to go viral after a video was circulating on social media that appears to show a rapper with a "1017" chain in bed with a transgender woman.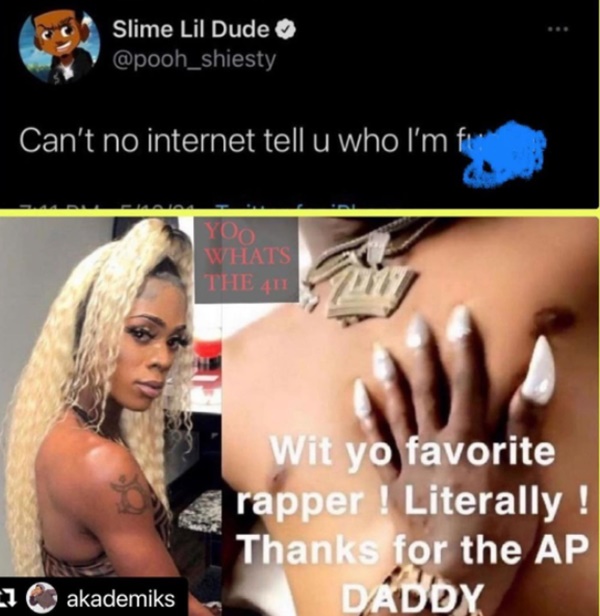 CelebnMusic247.com reports that social media spent time doing detective work trying to figure out whether the man in the video's tattoos matched with Pooh Shiesty's.
The caption of the video clip read:
Wit yo favorite rapper! Literally! Thanks for the AP DADDY…
After thanking him for the expensive watch and it didn't take Twitter long to determine that the woman in the video was Nicki P.
The only thing is Pooh Shiesty is denying it.
He made sure to threaten anyone who comes for them stating:
Can't no internet tell u who I'm f*ckin!
As for the video posted by the Transgender woman, Nicki P appears to have deleted her Instagram since the video went viral.
Possibly because Pooh followed up his tweet with, "Go Play with somebody who ain't gone kill you."
Go Play with somebody who ain't gone kill you

— Slime Lil Dude (@pooh_shiesty) May 10, 2021
Nicki P has not responded to claims that the video is fake.
Thoughts? Do you believe it was Pooh Shiesty?
We are hearing it wasn't him, but social media thinks it is. It's a loose loose when social media gets on it like that.
There are lots of rappers who love Transgender females. They claim they are not gay, but this is their way to convince themselves they are straight even though most of the Transgender females still have their boy parts and still use them.
View this post on Instagram