Pleasure P Son Marcus Accused Of Murder of 24-Year-Old Man on I-595!
Wow, this is jaw-dropping!
Pleasure P's son has found himself in some serious hot water after his son has become suspect number one in a Miami murder case!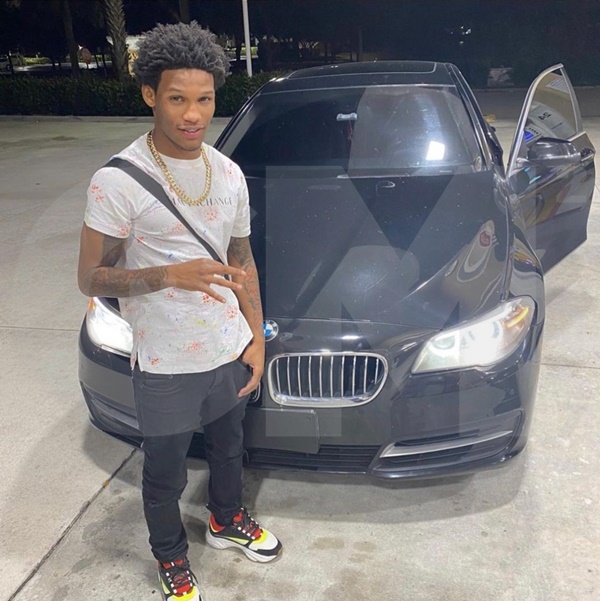 CelebnMusic247.com reports that Pleasure P 17-year-old son–Marcus Cooper Jr.–has been named a prime suspect in a murder dating back to early last month.
According to reports by the Miami Herald, the Pretty Ricky singer's son is accused of murdering Tyron Arthus, 24, in Broward County, Florida.

Authorities claim both Marcus Cooper Jr. and Tryon Arthus were in the same car in the early hours of Oct. 8th. However, at one point, Marcus Cooper Jr. allegedly ordered the victim out of the vehicle before shooting him. Tyron Arthus was then left for dead on I-595.

Officers are currently looking for Marcus and asking for the public's help in tracking him down, as there's an active warrant for his arrest.
Broward County Sherrif Gregory Tony spoke on the matter by commenting:
I don't care where he's at, whether it be in South Florida or Maine. He committed a crime in Broward County, and we're gonna bring him back here. We encourage you to turn yourself in, but make no mistake. We're not going to wait for you to come in. Leaving someone to die on the road is an atrocity we can't accept.
He went on to add:
Cooper should be considered armed and dangerous, and the investigation into the homicide is ongoing.
Tryon Arthus Mom Speaks on Her Son's Murder!
Marie Arthus remarked:
For them to take my son's life and gun him down–they left him like a dog on the side of the road. That wasn't fair. I just want justice for my son. He was not a bad person. He was not a bad kid. For them to take my son's life and gun him down and left him like a dog on the side of the road, that wasn't fair.
Pleasure P recently addressed the matter on Instagram Live, saying [which has now been removed]:
Marcus Ramone Cooper Sr., 36, said:
Why would a 17-year-old be around a 24-year-old? And no disrespect to that family–we wanna get to the bottom of this! I just wanna make sure mine is innocent. He is 17!… Why would he shoot a 24-year-old? Let's talk about this bro. And let's get all of the facts… something is missing!
The R&B singer and former Love & Hip Hop Miami star continued:
It's a lot more factors that was left out, and they do not want to give us all of the information. That's what my lawyer been tryna get, and they don't wanna get it to us… I got another lawyer that I just hired, the best in the business. So y'all better pray up, 'cause y'all n***as ain't finna do mine like that! Imma go out to the end 'bout mine my bro. To the end–I don't give a f**k! That's my son, that's my blood.
Pleasure P concluded:
We going to the end. That's it for me–this is it for me. Pleasure P is checking out about his kid. I am checking the f**k out!… Y'all wanna report on my son bro? My 17-year-old kid? Anybody that did, I swear to God–on God–it's on bro!
We understand Marcus and how he feels about his son, but you can't control your children's life choices. If Marcus Jr. did indeed do what was reported, he is a "dangerous" person and should be locked up.
We hope for Pleasure's sake, this is not true.