Floyd Mayweather continues to make headlines in a very public beef  with T.I. and his wife Tiny Harris over an incident that he claims he smashed Tameka.
The beef has gotten ugly between Tip and his wife, especially after last weeks reveal the he f-cked Tiny when she was in Las Vegas and then quickly denied it on Instagram.
Tiny and T.I. have been working out their marital issues since their marriage has been on the rocks and T.I. has allegedly been creeping and rumor to have gotten a side piece pregnant. But it was Floyd's recent confirmation that he slept with Tiny at a press conference that grabbed the attention of Peter Thomas who weighed in on the boxer. (Hence Floyd later told the media he never said he slept with her though and he was misquoted).
MMM HMM! Eye's roll!
Anyways, Real Housewives of Atlanta star Peter Thomas took to Twitter to CHECK Floyd tweeting the following: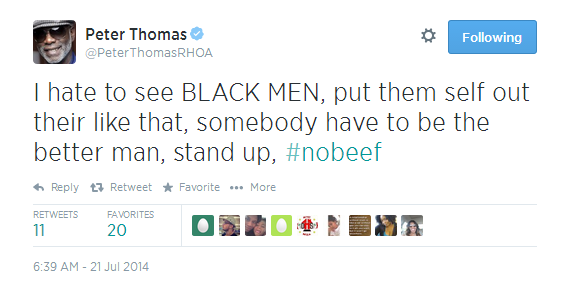 Peter added this comment and then took it down only leaving the above for his followers to read:

We get where Peter is coming from and Floyd should really take some advice from Cynthia Bailey's husband, because he knows. Peter seems to have a history of weighing in on people, like NeNe Leakes who called him a b*tch this past season which put a strain on the couples friendship.
Related articles