Party Down South Fan Want Lil Bit Back!
Party Down South fans are diehards about their favorite drinking buddies and now in a new petition to get Daddy!
Lil Bit fans will WON'T STOP until they get their Lil Bit back on Party Down South Season 3! During the Afterparty aka the reunion, the cast was NOT thrilled with Taylor 'Lil'Bit' Wright pulling a NO SHOW, even denouncing their friendship with her. Calling her a snake in the grass and NOT a friend, because she didn't like how she was portrayed on season 2 of PDS. If that was such and issue, then why did she sign up in the first place?
CelebNMusic247.com reported on Taylor's boyfriend Grant getting sponsored by Fireball Whiskey this week and now we have the hot tea on Taylor and a new petition to get her back on CMT via EnStarz.
It was rumored that Bit was getting a spin off over fan favorite Murry who has reportedly turned down an offer for his own spin off.
But that isn't stopping the masses who are petitioning for her to get her own show, some of her fans are still hopeful that she could wind up returning to Party Down South before its third season-even though filming for it has already wrapped.
"Missing @PartyDownSouth_ right now! @LilBitSouth needs to come back!"
Meanwhile,  Wright did drop hints she could be considering a return to TV in a new show back in September.
She posted this on Twitter: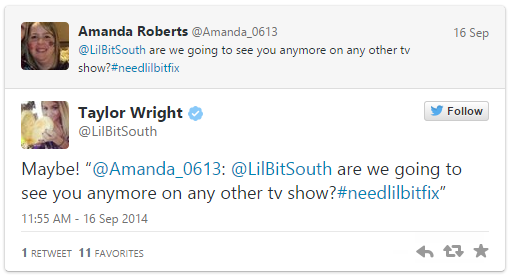 Although, it's unclear if she returns to TV what kind of show she could become involved with, especially since she was initially criticized for her reasons behind the decision to leave Party Down South.
Related articles