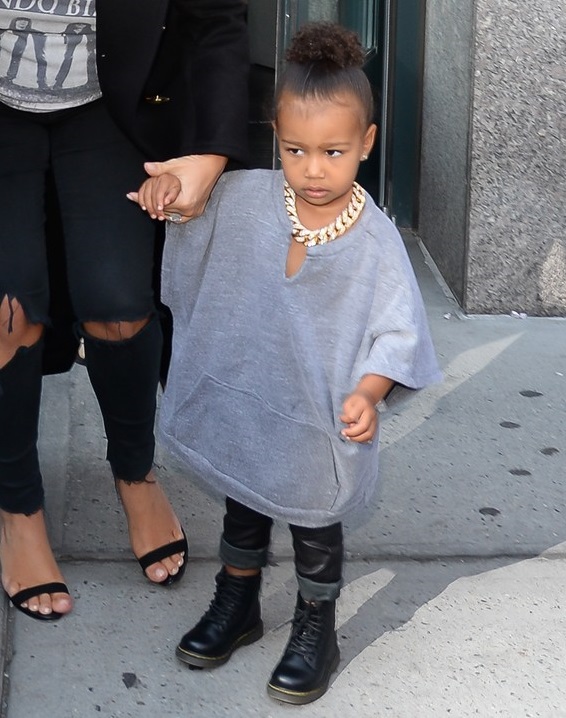 North West Rocks Kanye Inspired Fashions?!?
How many little girls do you know are out there rocking a Gold Chain And Over-sized Sweatshirt since North West Rocks Kanye Inspired Fashions.
Most likely None!
Did daddy Kanye or did mommy dress North West since she was spotted in wearing a Gold Chain And Over-sized sweatshirt and Black leather pants.
Not the most appropriate choice for such a young girl, but hey is Tom Cruise and Katie Holmes daughter Suri can wear designer clothes from the minute she was born, then why not.
CelebNMusic247.com spotted little North West rocking her latest high fashion urban wear with her mom Kim Kardashian-West. The family was in New York City over Labor Day Weekend to celebrate a friend's wedding.

Kim and North did a little shopping during their trip and Kim showed off Nori's Kanye-inspired look.
[rpi]
It looks like Kanye eased up on Kim and let her dress herself for once, because she looked more comfortable than she has in a long time! Kim was spotted dressed down in ripped jeans, a t-shirt and heels. It's the Kim we all fell in love with.

She even had her daughter North in a similar matching attire.

We wonder if North is going to start wanting a certain lifestyle of her own soon, since Kylie and Kendall were ready to leave and be on their own as soon as they turned 18. If that is the case the clock is ticking on North's departure and desire for her own reality TV series.
Thoughts?