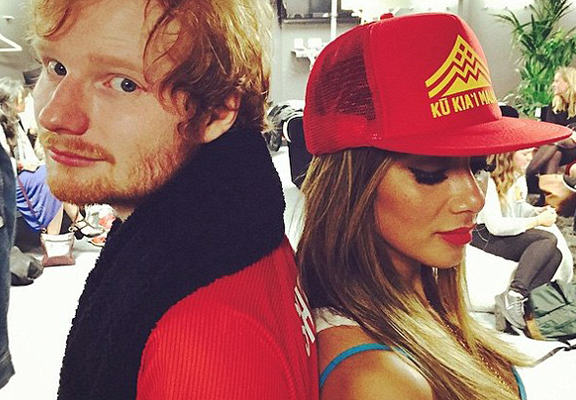 Nicole Scherzinger Dating Ed Sheeran?!?
There's another new couple alert and it's the 37-year-old former Pussycat Dolls singer, Nicole Scherzinger Dating Ed Sheeran, the popular 24-year-old.
Yes Nicole is going for a younger man!
CelebNMusic247.com has this report about the newly spotted couple:
The pair have been spotted together on a couple of occasions in the last month, and are apparently in the "early stages of dating", according to a new report.

After breaking up with her long-term boyfriend Lewis Hamilton earlier this year, Nicole Scherzinger has reportedly discovered new romance with pop star Ed Sheeran.

The former Pussycat Dolls singer, 37, is said to be in the "early stages of dating" with the popular 24-year-old Sheeran, according to The Sun. Scherzinger apparently found comfort and solace in Sheeran's songs in the aftermath of her split from Hamilton, and things took off from there.

The pair was friends for a long time before the 30-year-old Formula One world champion ended his on-off relationship with Scherzinger back in February this year. The former 'X Factor' judge was spotted backstage at Sheeran's huge Wembley Stadium concerts last month, soon after which she accompanied him on a visit to his hometown in Suffolk, where they were seen enjoying a drink at the local pub.
[rpi]
An unnamed source close to Sheeran told The Sun's celeb editor Dan Wootton: "As far as he's concerned they were in the early stages of dating and he's been open about it with close friends and colleagues."

Another insider provided Scherzinger's take on developments. "When she split from Lewis, she was heartbroken but ended up playing Ed's songs on a loop," they revealed. A close friend of hers added: "They're extremely close. Nicole says he is the male version of her."

Sheeran recently experienced heartache when he split from his girlfriend of one year Athina Andrelos, a 24-year-old production assistant with The Jamie Oliver Group, back in March this year. He had said as recently as July that his love life was pretty much "non-existent" since the split, mainly thanks to his heavy touring commitments, but it now appears that he's found love again.
Neither Sheeran nor Scherzinger have made any official statements regarding these rumors at the time of writing.