Sorry Barbz, but your queen Nicki Minaj has decided to retire and raise a family with Kenneth Petty.
The chart-topping rapper announced Thursday on Twitter that she "decided to retire & have my family." Read on…
CelebNMusic247.com has the latest hip hop shocker this week as Nicki Minaj has decided to retire and raise a family with Kenneth Petty.
Nicki Minaj was ready to battle it out with Cardi B all 2018, but since Megan Thee Stallion came on the scene it appears that Nicki is cool with taking a step down.
The shocking thing is Nicki's announcement comes as a surprise after she recently made a guest appearance on Megan Thee Stallion's "Hot Girl Summer."
We get it though she is stepping down on a high note, with an anthem song for 2019.
In the tweet, Minaj took a jab at her critics and asked her fans to "keep reppin me, do it til da death of me."
Things have changed for Nicki and it appears she's done some reorganizing of her priorities.
This past July, Minaj announced she was pulling out a show in Saudi Arabia to show support women's rights, gay rights and freedom of expression. She also canceled her appearance at the BET Experience Concert earlier this year.
The only problem is her devoted fans were heartbroken by the news and just couldn't understand why she was leaving them without a queen to worship.
By early Friday morning, Minaj had deleted the original tweet and also started responding, as she does, to her devotees, writing that "in hindsight" she should have addressed this all on her Beats 1 station, Queen Radio.
"The tweet was abrupt & insensitive," she tweeted. "I apologize babe."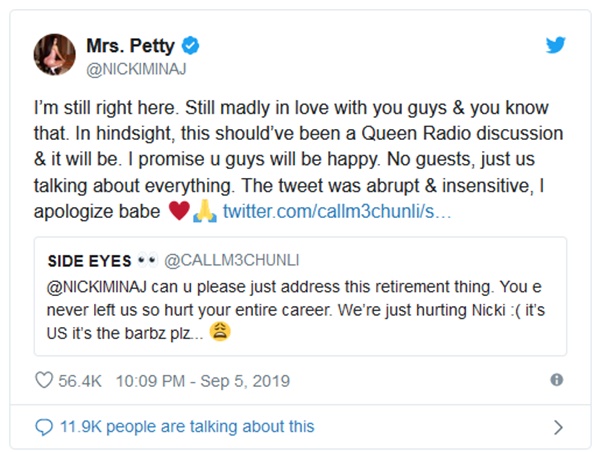 The Queen of the Barbz fans are still having a badtime handling the news:
— Mrs. Petty (@NICKIMINAJ) September 6, 2019
Nicki has found her happy place with Kenny Petty, and if that is what she wants you have to give her that.