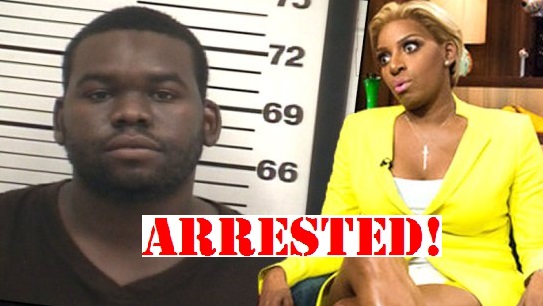 Nene Leakes Son Bryson Arrested!!!
Wow, The Real Housewives of Atlanta are gonna have some juicy tea to sip on since Nene Leakes Son Bryson Arrested in Atlanta.
The Housewives will be tawlking!
CelebNMusic247.com got word via 4UMF.com that Nene Leakes Son Bryant is no stranger to a jail cell and his current mugshot can be added to his 4 prior arrests.
Here is the report:
While his previous arrests were for minimal charges like traffic violations and/or probation violations, this time, Bryson's alleged crimes are a bit more serious and include being involved in some sort of scheme to cash fraudulent payroll checks.

He's got some serious 'splainin' to do about this sticky situation.According to the AJC:NeNe Leakes' oldest son Bryson Bryant was arrested last week in Douglas, GA in connection with a check forgery case.Bryant, 25 of Duluth, was not charged with check forgery.
[rpi]
He had a fake check written to him, but he hadn't cashed it yet so he couldn't be charged for that, according to Coffee County investigator Robert Sprinkle. Bryant was arrested only because he provided the cops with a false name, a misdemeanor.On Tuesday, June 16, investigators made two arrests involving fraudulent payroll checked passed throughout the state, with more than $35,000 tracked.

The Douglas Police Department saw an individual at a local McDonald's with a laptop and printer making fraudulent Taco Bell payroll checks. That man, Inginac Walter Theodore of Athens was arrested on five felony counts for printing fraudulent checks.

The police said Bryant was in the vehicle and lied about who he was. Bryant's ID was found with Theodore.Bryant was arrested and released on bond. Theodore remains at the Coffee County jail, Sprinkle said.According to booking information, Bryant is married and works at Five Guys. RadarOnline said Bryant has a couple of children with Ashley Hill.

Bryson was arrested twice in 2010, once for possession of a controlled substance and possession of a weapon (mugshot), and a second time that same year for marijuana possession (mugshot).

In 2011, he was arrested for shoplifting razors at an Atlanta area Wal-Mart.In 2012, he was arrested for at least two probation violations Bryant appeared in a few episodes of "Real Housewives of Atlanta" in the early years of the show and his troubles would occasionally be referenced or alluded to.

The reality show is in pre-production for season eight.No word yet on how Nene feels about her son's current predicament, but it seems to me like Bryson should choose his friends a bit more carefully.
Sounds like NeNe has her own Apollo Nida with her son Bryson. Maybe he can get a cell next to Phaedra's soon-to-be ex husband Apollo?
We wonder what NeNe is gonna say about this on social media when the haters attack?
Thoughts?