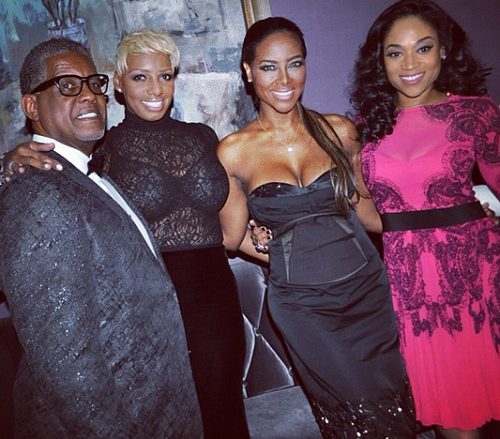 (CelebNMusic247-News) NeNe Leakes and Kenya Moore Shade Apollo Nida
On Friday Apollo Nida and Kenya Moore's assistant Brandon DeShazer reportedly got into a fight during the filming of RHOA and now NeNe Leakes and Kenya are shading Phaedra's man.
We reported on Friday after Brandon DeShazer went on TMZ Live to talk about how Apollo attacked him during the filming of the new season of Real Housewives of Atlanta. we told you earlier that it was said that Apollo and Brandon got into a heated argument over the workout DVD drama and it led to blows.
Apollo supposedly had to be restrained by multiple members of the film crew however Apollo is claiming he was actually trying to stop a fight between Brandon and another person and was hit during his attempt to do so which put him a position to where he had to defend himself.
Despite his claims, Brandon is looking to take legal action against Apollo over the brawl. However, Phaedra has yet to speak out on the incident. But that didn't keep cast mates NeNe Leakes and Kenya Moore from shading the incident and throwing Apollo under the bus for a cheap attempt to get some publicity.  Both NeNe and Kenya BASHED Apollo for trying to drum up controversy for attention and the TV cameras.
Check NeNe Leakes and Kenya Moore Tweets:

it's only a matter of time for Phaedra to sound off….in 5, 4, 3, 2…OK maybe a little longer.
Related articles