Love and Hip Hop Recap: Rich Dollaz Is Playing With Fire!!!
Tonight on Love and Hip Hop Season 5 Episode 7, Rich Dollaz Is Playing With Fire when he agrees to help DJ Kay Slay by working with his ex Jhonni Blaze!
Love and Hip Hop NY kicks off with Jhonni Blaze, a former ex of Rich Dollaz. In the past Jhonni put Richie on blast on social media when things didn't work out in their relationship. She cause Rich to lose a massive about of money, but now in Dollaz tradition he is welcoming the drama back in. He decides to work with Jhonni
Over in Little Italy Diamond is hanging with her new man, Ron. The two are having a romantic evening having gelato and enjoying the city.
Across town Yandy is having serious issues with Mendeecees and his baby mama, so Yandy goes to get the big guns, Mendeecees mom. She agrees to go with her son to meet with her son to have a sit down to keep things out of court.
[rpi]
While in the park doing yoga, Amina is hanging with her sister talking about the situation with Peter Gunz and how he's NEVER going to change. Since he confessed that he went on vacation with Tara, she feels that she is the runner up. She tells her sister that she is planning on leaving Peter and that he's no longer in her plans for a future. She wants to go to Germany to be with her sister and might just stay.
Over at the pool hall Cisco and Rich Dollaz are discussing his situation with his baby mama and how he is NOT cool with her seeing another man. Rich says he's going to have to trust her, but Cisco for some reason thinks he's the last man on earth and that she NEEDS to put up with his BS. Basically Cisco NEEDS to get a clue.
Then Rich keeps the drama going and adding salt to an open wound he shows Cisco that Diamond has moved on with another dude. Cisco is PISSED and says he wants to meet with her, and Rich replies to him with "Let see how that works out."
Like we said, Cisco NEEDS to get a clue, he may be a producer, but the way he strings women, he doesn't deserve to be in any relationship until he's honest to himself first.
Over at an outing with Tara, Yandy is there to have a night with the girls and catch up with Tara. Tara says that she is trying to find a calm cool with Amina. She has told the boys that their father is no longer living with her and the kids are NOT taking kind to the situation.
Over in the studio, Uncle Murda and Cisco are working on a new project. He asks Diamond to come down to meet him in the studio which she is NOT feeling. He tells her that he's hearing some things – which she has a new boo. Diamond breaks it down telling him that she is single and that she wants to be happy, respected and cool.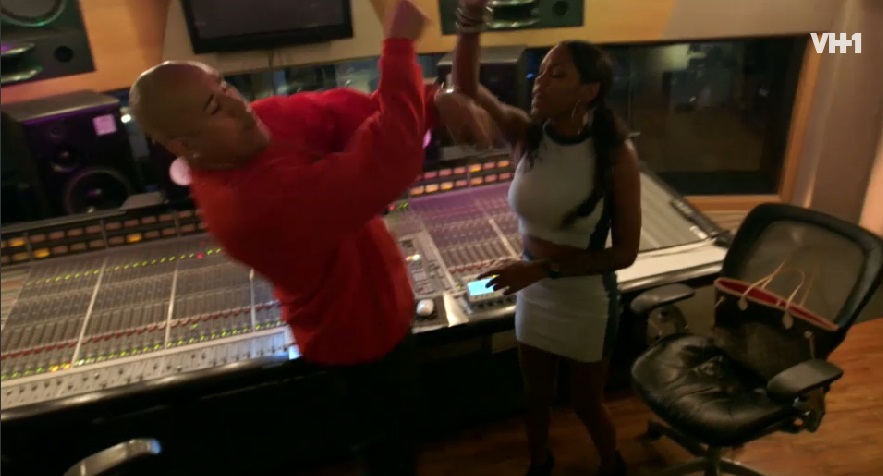 Cisco for some reason thinks that he deserves better treatment from Diamond, but he's been nothing but a chump from the jump. He tells her that he NEVER begged her to come out to New York. Then he goes off on her about jumping on another dudes train. He gets up in her face and she pushes him out the way. He tries to step to her threatening her and telling her to get her corny ass out of his studio when security steps in and has him leave the room.
He tells her that she's a b-tch and she NEEDS to go back to LA and get out of his city since he feels disrespected.
We find Cisco to be funny, because he continues to treat women like dirt and now that he's finally trying to change things everyone is supposed to drop to their knees because he's finally ready? We don't think so. Strike it up as a lesson learned and push on Cisco…
The next day, Rich meets with Jhonni Blaze to hash out their past. While she was in jail, she is upset that he was sleeping with other women while she was locked up in prison. She apologizes for blasting him on social media with photos and his number.
He asks her to stay off social media, if she is willing to work with Rich Dollaz and Dollaz Entertainment. The two apologize and now we will see if things work out.
Over at Amina's house Peter is hoping that the surprises that he has in store for her will win her back. Peter tells Amina that he is bringing all the kids together, since Tara put the ball in his court to work out all the problems. Amina tells him that she is NOT cool with any of it and that she NEEDS to feel that she has his support for their family. She wants him to be available for her. She tells him that she no longer wants to take him to Germany to meet her family or to plan the wedding.
Over at Bogata Golf Center in New Jersey Rich brings out his artists to talk business. Cyan tells Rich what she wants to do and how she wants to launch her event for her brother. Precious Paris tells Rich that she has been waiting on Rich Dollaz to give her a banger. She says, "This is why she left G-Unit." Rich tells her that she is waiting on Rich, but Rich comes at her telling her to slow her role and to stop doing whack video with street artists. If she wants to have a hit album she needs to trust Dollaz Entertainment.
Across town Mendeecees and his mom Judy are ready to have a sit down with his baby mama, Samantha. Mendz kicks off asking Samantha's mom Kim (who is a bit on the manly side of the coin), why is she threatening him. Obviously things start off on a bad note and gradually get worse. Samantha tells Mendeecees that their son is NOT getting help with his school work because he is stuttering. That is when Judy questions how they know all that? And then Kim pops off at Judy asking her how old she is, so Judy throw a drink in Kim's face and just like Mike Tyson, Kim is ready to beat her @ss!
Let's put it like this, we haven't seen mom's fight like this since Scrappy and Erica Dixon's mom threw down at the dinner table back when they were engaged.
Mendeecees knows his mom was out of line popping off saying that he ain't ever going to get to see Mendeecees. The situation got out of control and he just wants to work things out. He feels that his mom was out of line and he wants to work things out with Samantha. Mendz tries to mend the fences with Kim. Kim feel strongly about her grandson. Mendeecees apologizes for his mother's actions and he and Samantha agree to work things out another night since their moms got in a fight.
Check the reactions from the cast below: