We have proof about a NEW COUPLE ALERT for you!! Proof That Lil Scrappy And Basketball Wives LA's Bambi ARE An Item
Here's the drop according to The Hip-Hop Socialite recaps the hottest celebrity news and gossip, with the inside dish on Lil Scrappy's new woman in his life.
When Kirk Frost's onetime Love & Hip-Hop: Atlanta sidepiece Mary Jane put her former "friend" Bambi on blast for allegedly hooking up with Lil Scrappy, most of us wrote it off as another angry bird running off at the mouth, but now it appears there's truth to MJ's squawking.

In a recent interview with VLAD TV, Scrappy, who insists he and his baby mama and Love & Hip-Hop: Atlanta co-star Erica Dixon are done, revealed that Bambi came to visit him a few times during his 30-day rehab stint for marijuana addiction in June, but the more blatant clues of the duo's romance can be found on their Instagram pages.

As far back as last September when Lil Scrappy was suppose to be engaged to Erica, a picture of him canoodling with Bambi popped up on IG, and it immediately got people talking. Of course the "Money in the Bank" rapper denied the rumors via one of his Twitter pages (@lilscrappylive), but now he's free and clear to take up with Bambi…and spend his money on her (we all know how much she loves receiving gifts from men).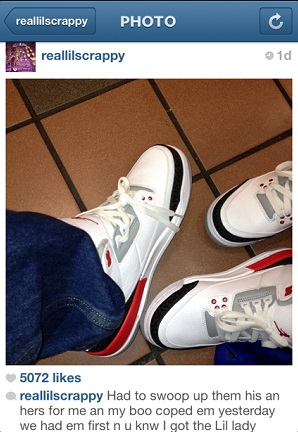 Over the weekend, Bambi posted a picture of her sporting a pair of Jordan sneakers(at least I think that's what they're called – I'm so not a sneaker head) on IG with the caption, "Thx boo…I'm goin outside to play now." The following day, Lil Scrappy posted a picture of his and someone else's feet in the same sneakers, and captioned it, "Had to swoop up them his an hers for me an my boo coped em yesterday we had em first n u know I got the Lil lady some too." (You made need to get someone who speaks trap language to translate that for you.)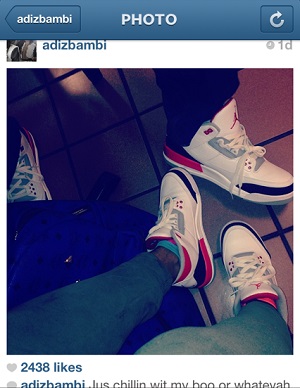 Bambi followed suit by posting a similar picture, saying in the caption, "Jus chillin wit my boo or whatevah." If that isn't enough proof that Bambi and Scrappy have made their ghetto match-up official, then look no further than the floor tile and the blue bag in both pictures.
I guess the only thing left to do know is congratulate Bambi on landing another reality show because Mona is going to eat up this storyline on the next season ofLove & Hip-Hop: Atlanta.
Related articles