Lenny Kravitz Abs Wows Channing Tatum + The Rock!
If you haven't seen Lenny Kravitz abs then you haven't seen the "inspiration" he is giving to all men in their 50s. Fellas, Lenny proves that having a gut is NOT sexy…it's all about ABS BABY!!!
View this post on Instagram
CelebnMusic247.com reports that Lenny Kravitz has heads turning at his latest photo dripping sexy in the morning.
Even Magic Mike himself, Channing Tatum was salivating at Kravitz Ab-tastical bod.
Tatum praised Lenny saying:
Oh, s—!! Doing the Lord's work I see!! Will be calling you shortly to get into your schedule, my friend. Hehehe.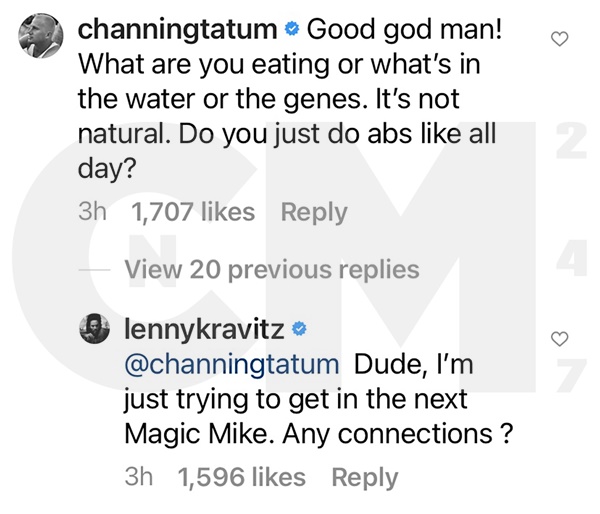 The singer's daughter Zoë Kravitz made the suggestion that he should audition for Magic Mike 3 by asking Tatum, "You auditioning for MM3?"
Lenny wrote to his daughter, "I've been ready!"
Earlier this month, Zoë and Tatum were seen leaving the Met Gala together before heading to the exclusive Cincoro Tequila Met Gala afterparty hosted by Alicia Keys.
Are Channing and Zoe Kravitz Dating?
Personal reps for the actors have not commented on their relationship to PEOPLE, but sources have said they share a lot in common.
"Zoë thinks Channing has depth both as an actor and a person," an industry source previously shared.
The Rock praised the rock star weighing in, saying:
My brotha. Inspiring. #ohana