The hate crime against Empire star Jussie Smollet is reaching everyone, except President Trump.  He loves to weigh in on everything but has said nothing about the Jussie Smollett attack. Have you noticed there is NOTHING on his social media?
It's just one more piece of evidence proving Trump is racist against anyone of color or of another creed. He continues to blame Mexico for the many heroin overdoses each year, but does he forget our government cut deals with drug lords to get drugs into our country in the 70s? It's easy to point the finger at Narcos, but we truly need to point the finger at our corrupt government which is being run by a racist who is the new Dick Cheney.
Meanwhile, actor, comedian Kevin Hart questions "Why are we going backward" in the United States? In the 60s Martin Luther King fought for equality for African American's, and, now 50 years later we are back where we started? Something is seriously wrong. Read on…
CelebNMusic247.com wants to point out that Kevin Hart who is "sending prayers your way Jussie Smollett" has raised a question that all Americans are asking "why are we going backward?"
Kevin Hart points out the brutal attack on Jussie Smollett is "disgusting" because "we as people have to do better." Hart joins the list of celebs like Steve Harvey, Lee Daniels, Taraji P. Henson and more who are wishing Jussie good health and to stay strong.
Daniels told the world on Tuesday "We got this" following the brutal attack on Smollett.
He wants to know "WTF is going on the world????" He can't understand "why are we falling in love with hate????"
Kevin wants everyone to wake up and stop "hating" and start "choosing love."
American's NEED TO STOP following the lead of the President's misguided ways and hatred toward people of color.
You could tell it was painful for Trump and Pence to even stand in front of the MLK monument, but we all know he will deny, deny, deny. Just like Dick Cheney, Trump continues to have selective memory when it comes to what he says.
Look at this pathetic caption that he obviously did NOT write on the MLK holiday. We are sorry but you can always tell when someone doesn't like something but they have to do it because of its part of the job.
Trump's Instagram posted this photo and caption on MLK day:
Today we celebrate Dr. Martin Luther King, Jr. for standing up for the self-evident truth Americans hold so dear, that no matter what the color of our skin or the place of our birth, we are all created equal by God. #MLKDay? ?
Such a textbook caption. #SMH
This is the problem right here.
When you have a leader who hates blacks, Latinos, gays, Asians and anyone not White (German) like Hitler, it teaches nothing but hatred being ok in America.
How can our country move forward with a man who wants to put us back to the 50s when people lived in fear, segregation was the norm, black rode in the back of the bus, Asians and Mexicans had no voice?
We get people were upset with how the country was being run, but voting for Trump in 2016 was the biggest mistake Americans made. He is a menace and all he cares about is a fucking wall?
Come on people get smart, listen, learn, and open your eyes to the lies, propaganda, and conformity you are being served on the daily.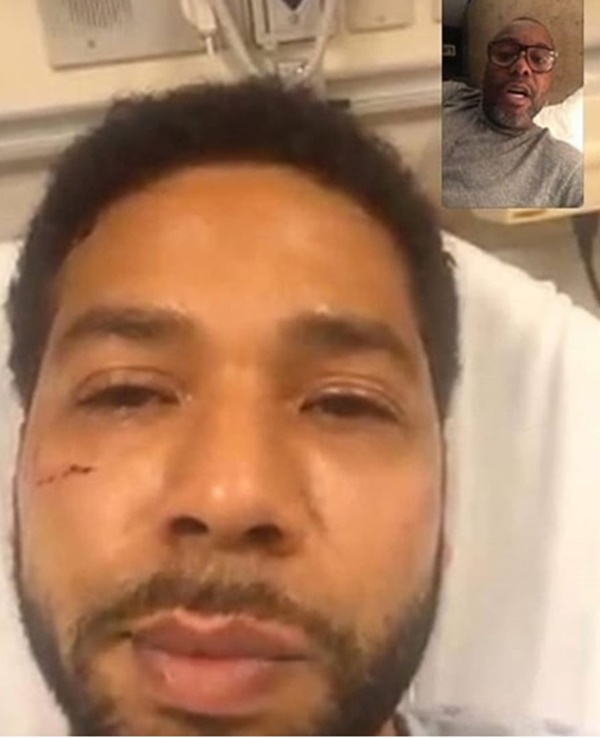 Hear what Kevin Hart is saying because we want to know why does it take an attack on Jussie Smollett to get celebrities to speak the truth on what is happening to our country. This world is being fueled by hate, and we cannot allow hate to win!
Kevin Hart concluded his post-Wednesday writing:
This is unbelievably sad. Why are we going backwards….this is disgusting. We as people have to do better. WTF is going on the world???? Why are we falling in love with hate???? God damn it, people…Choose love…I repeat…Choose love. I will forever choose love and I will continue to teach my kids how to do the same. Stand strong brother.
Kevin is on OPERATION LOVE, NOT HATE, so please follow his lead…Tolerance and Love go further than hate.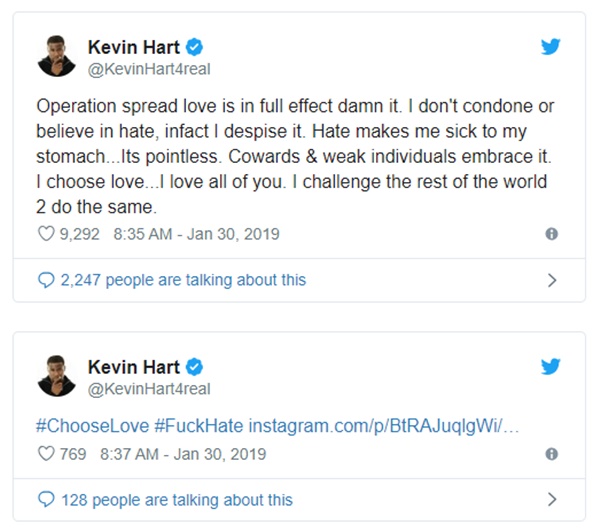 Meanwhile, Trump can just keep looking out his window for his wall trying to negotiate with Democrats: