Comedian/actor Kevin Hart involved in a horrific car accident when his car careened off the Mulholland Drive.
According to police The car was crushed and the driver of the car was found pinned in his seat under the crushed roof and so was the female passenger. Read on for more about Kevin Hart car crash…
CelebNMusic247.com reports that the fire department had to saw off the roof to free all passengers out of the car.
UPDATE: Kevin was taken to Northridge hospital and Jared Black was rushed to UCLA Medical Center.
Here is what we have learned via AOL:
Kevin Hart has been injured in the crash of a vintage muscle car in the hills above Malibu.

Hart, 40, was a passenger in a 1970 Plymouth Barracuda that went off Mulholland Highway and rolled down an embankment around 12:45 a.m. Sunday. The driver, 28-year-old Jared Black, both suffered "major back injuries" and were taken to hospitals. As well as the third passenger, 31-year-old Rebecca Broxterman, she did not require hospital treatment.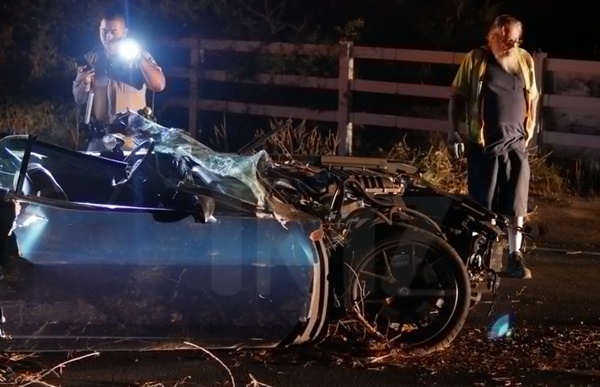 TMZ reports:
The car smashed through wooden fencing along the roadside, and you can see the roof was completely crushed by the impact.

Jared Black, the driver, was airlifted across town to UCLA Medical Center. His condition and Kevin's is unknown at this point. We've reached out to Kevin's rep, but no word back yet. Kevin was first out of the vehicle and according to a witness, a member of his security team showed up in an SUV and picked him up. Kevin lives nearby and cops say he went home "to get medical attention." He was eventually treated at a Northridge hospital.

The third person is a woman who Police say the driver had not been drinking.
Check out this report via Cooper Rummell, a reporter at KNX1070 in Los Angeles:
.@CHPWestValley officials confirm actor/comedian @KevinHart4real was seriously injured after a friend, who was driving Hart's 1970 Plymouth Barracuda, lost control of the car and rolled it down an embankment in Malibu Hills. @KNX1070 has obtained a copy of the CHP report. pic.twitter.com/3tbNU1pqKM

— Cooper Rummell (@KNXCooper) September 1, 2019
Earlier, on Saturday … before Kevin Hart car crash, he posted a video of himself in his vintage Plymouth Baracuda. He was proud of his muscle car, but it appears it was too much.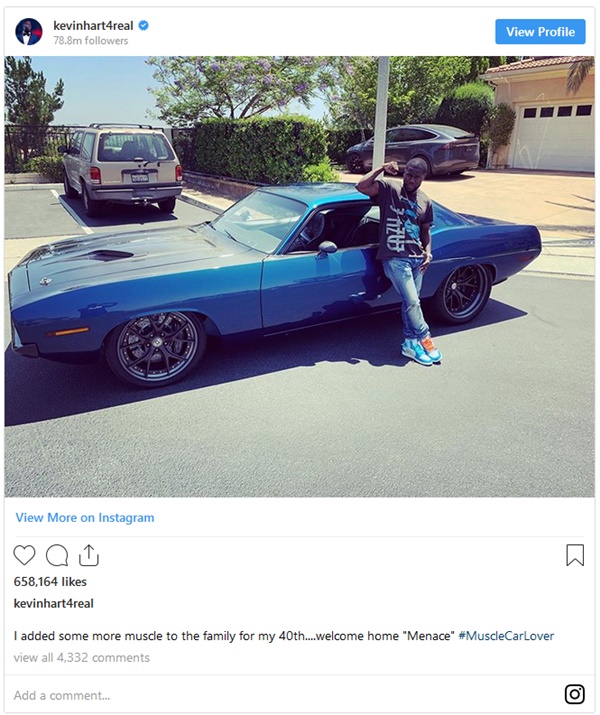 Kevin Hart car crash comes just weeks after he bought the car back for a gift to himself for his 40th birthday.
Just think, Kevin was spotted on Instagram yesterday wishing everyone a happy holiday weekend: