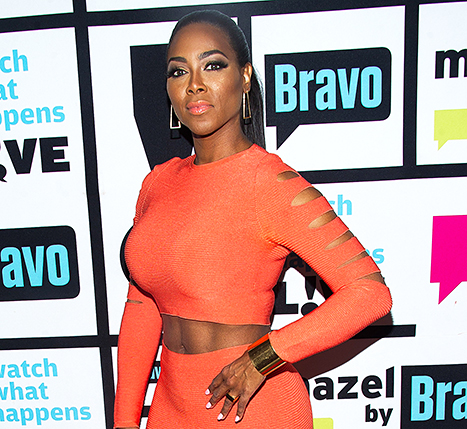 Kenya Moore Unlucky With Men!?!
It seems that the fallout continues after Kenya Moore revealed that her Millionaire Matchmaker boyfriend James Freeman was married, now Kenya Moore Unlucky With Men.
The Real Housewives of Atlanta star has been on the defense ever since Freeman's wife claims that Kenya knew all along that he was married despite telling everyone that they were in love.
Obviously Kenya didn't want to look like she was lying about another relationship backlash, so she decided to take things to the next level and EXPOSE everything on social media.

Now Us Weekly is trying to help clean up the story, claiming that a source close to the Real Housewives of Atlanta star tells Us Weekly that Moore has been struggling after learning (via social media) that her ex met his future wife shortly after their Matchmaker episode was taped.

Then the source tells the world:

Kenya takes the high road with a passage from Maya Angelou.

She candidly speaks out:

"Kenya is genuinely devastated"

She goes on to admit:

That she was "astounded and devastated" after learning "that the man I met and fell in love with from Millionaire Matchmaker was married a week after the show aired."

Millionaire Matchmaker Patti Stanger addressed the uncomfortable situation on Thursday, May 14, saying producers vetted him properly before the show was taped last fall.

"He was single when he shot the show, which was in November," the third-generation matchmaker and series' executive producer told Extra. "They basically dated. They broke up… He met a new girl in January and he ended up marrying her. It was very fast."

Stanger tweeted at Us Weekly on Friday and said that in no way was she defending Freeman. She reiterated that the real estate hunk was unattached at the time of shooting, and went on to date Moore. "But only they know for how long and what happened!" she concluded.

Freeman's new wife Jaimi Gregory also spoke out this week about the fiasco, alleging that Moore was attempting to call attention to herself for publicity. "I met him in December. We met on Match.com and three months later we were engaged," Gregory told RadarOnline. "Then on Good Friday, April 3, 2015 we got married. We just knew right away that we were in love."

Moore supposedly reached out to him after their episode aired. "Kenya wrote to him saying that they should celebrate since their ratings were so high," Gregory shared. "But he told her that he had met someone and fell in love so it wasn't appropriate for him to talk with her anymore."
Meanwhile, former beauty queen Moore, 44, told Extra on Thursday that she was moving on. "I'm in this fight and I'm a warrior and I just think life goes on," the RHOA star said.
Soure @4UMF, @DishNation, W