Kanye West Calls Kim Kardashian Is A "White Supremacist"!
Ye continues to SLAM his wife Kim Kardashian. On Monday he was RANTING that Kim tried to have him locked up after his emotional breakdown in South Carolina. Now, he is saying that good ole Kim who has been around the block with multiple black men in the industry is a "White Supremacist."
Read on to see what Kanye West is saying about Kim Kardashian which he admits is "at peace" if she wants to "divorce" him. That is something else he said he's been trying to do since 2019. Kanye says Kim Kardashian White Supremacist…
View this post on Instagram
CelebNMusic247.com reports that Kanye West is really trying to sabotage his relationship with Kim Kardashian since she tried to get him the proper help for his bipolar disorder.
Kim Kardashian took to social media speaking on her husband Kanye West's health saying:
I've never spoken publicly about how this has affected us at home because I am very protective of our children and Kanye's right to privacy when it comes to his health.
However, Kim does admit:
Ye is "brilliant but complicated… [along with] the pressures of being an artist and a black man, who experienced the painful loss of his mother," is sometimes too much for him.
Well, Kanye has replied to Kim's statement about his health issues via social media:
Ye seemed to hint his that his days around his children could be numbered after yet another headline-making rant, but he insisted it's, "all positivity when the devil attacks," adding:
EVEN IF I NEVER SEE MY KIDS TILL THEY ARE 18 CAUSE YOU BELIEVE WHITE PEOPLE ON GOD NORTH WILL NEVER BE EXPLOITED BY THE SYSTEM OF WHITE SUPREMACY.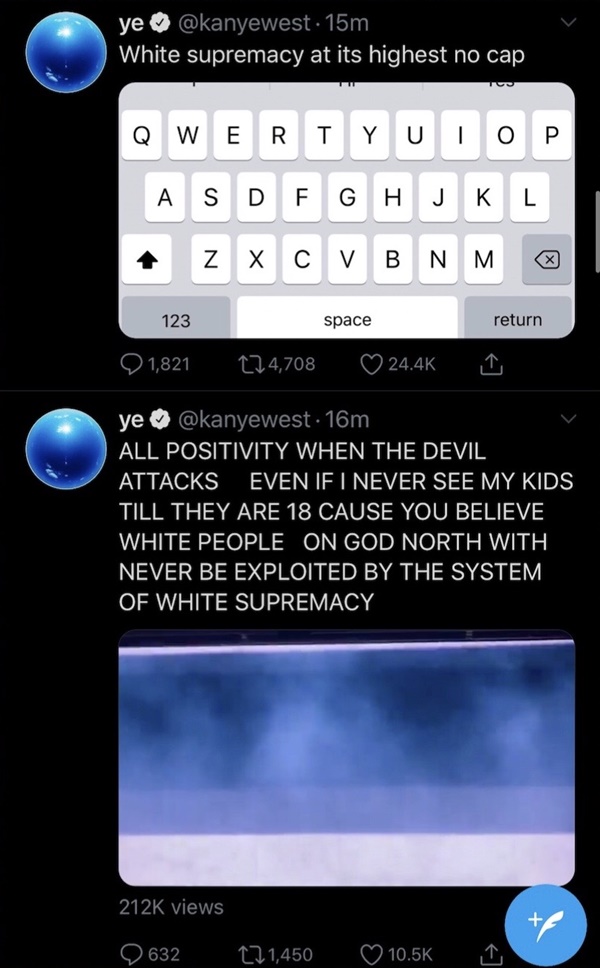 Let's not forget that he compared the Kardashian's to the movie "Get Out."
Apparently, Kim was keeping Kanye in the 'sunken place'?
Can Persian women be whits supremacists? Don't you have to be white, which she is NOT?
Ye posted a new photo of himself battling EVIL.
You may notice Kim as the Mother Mary and his children's names are below that on the right.
bipolar disorder is hardest on the family members trying to help. Sorry Kim, be strong through this.
We will keep you posted…