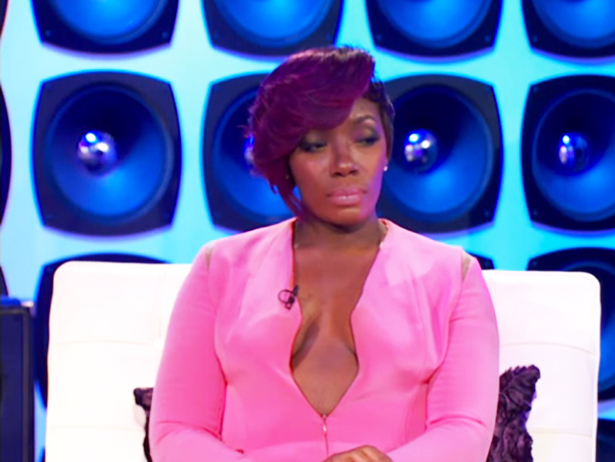 Kalenna Says LHHATL Fight Was Uncalled For
Former Diddy Dirty Money singer Kalenna Says LHHATL Fight Was Uncalled For which is understandable since she is a pregnant woman who was on stage during the fight.
Didn't Stevie and Joseline realize how unsafe it was for the rest of the cast when they stormed across the stage to attack Benzino and Althea.
And let's be real, why is Joseline so upset and hateful towards Althea? Is it just that she slept with Stevie almost 10 years ago? Joseline needs to check herself for her insecurities. As for the attack on Tammy, why? Was it the fact that she came for Tammy after she asked her to stylize the video?
Joseline has a sassy mouth and her stripper talk is NOT how you handle conversation with people when you're trying to make it in the business. Hauseline deliberately takes shots at everyone and NEVER owns up to any of them.
Now Kalenna weighs in on Joseline's behavior on the reunion especially when she went on the attack with Althea Hart and Tammy Rivera. We understand her beef with Mimi, but all of it is uncalled for if we have to weigh in and back Kalenna.
Kalenna says LHHATL Fight Was Uncalled For, saying:
I'm siting on the couch, I'm rubbing my belly and sh*t, kind of upset because my makeup wasn't the way it was supposed to be and my hair didn't come out the way I wanted and I'm like f*** it, this is my first reunion, I'm going to have fun. I'm sitting here with my beautiful husband, who cares?!

All of a sudden I see Stevie J and Benzino and they're kinda putting on this show. And the security guards come up and I'm like, 'Okay, great, this is like Barnum & Bailey's, this is great we're really getting a show!' And then all of a sudden the Wolverine from X-men came out across the damn stage and just bodied Althea and I was just like, 'Oh my god, that is not Joseline that is the Wolverine, himself. He's going ham.'

Everything else from there was just a blur to me – it just broke out into small fights. What I was confused about was how Joseline was able to get to so many different places – like she went from Althea to Tammy,then Deb was in it, Bambi was in it, then Althea again, and then going down the hall it was Mimi – it was just so much confusion going on. All I could do was grab my little baby bump and go stand in the crowd with the fans. And I was just thinking, 'God forbid anything was to happen,' because I rode off the couch just in time.

All I can say is this was my first season on the show, my first time meeting everybody and it was embarrassing. For me to come fresh off my music high to say, 'I'm going to do reality TV and it won't be so bad.' I won't be the girl to get a candle thrown at her or jumped on. I won't jump on anybody else, we can laugh it out – have a real conversation. It was just embarrassing for my parents and the people I convinced to watch and keep an eye out for me to see all of that.
Related articles